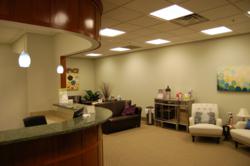 Syracuse, NY (PRWEB) February 14, 2012
Chosen as one of Jacksonville magazine's "Top Docs" in 2007 & 2008, Dr. DeRoberts returned home to upstate New York from Florida to open his new practice in October, 2010. Since then Dr. DeRoberts has seen his Central NY plastic surgery practice thrive and grow substantially.
"I'm thrilled to be back in New York since leaving Florida. It's really joyful to be back with my family and practicing medicine here. The response to my return has been wonderful. My patients have been very appreciative of the high level of skills and training I've attained," said Dr. DeRoberts.
In creating his solo practice Dr. DeRoberts wanted to create a warm, caring, and professional atmosphere. Dr. DeRoberts knows that plastic surgery is an intensely personal decision and he provides unparalleled customized care for each patient. The staff at DeRoberts Plastic Surgery are trained to provide the highest level of service and patient care, no matter what cosmetic procedure you've chosen.
As a leading plastic surgeon in Florida, Dr. DeRoberts has received many accolades and awards for his research and plastic surgery skills. All of these achievements have given him exceptional training in the latest advancements in plastic surgery as well as improving patient outcomes while maintaining the highest regard for safety. Patients appreciate his warm caring manner in addition to his technical and aesthetic abilities.
"Your entire staff should be complimented on the exemplary attentive care they provide to your patients. My wife and I both are happy we found a doctor who is not only talented in the operating room but has an excellent personable bedside manner. Indeed that does set you apart" – S.K. –DeRoberts Plastic Surgery patient.
DeRoberts Plastic Surgery offers patients face, body and breast cosmetic surgery as well as injectables and laser treatments. Dr. DeRoberts strongly believes that injectables should be done by a plastic surgeon, not a nurse or aesthetician. By personally caring for all patients seeking skincare injectables, Dr. DeRoberts believes that both the safety of the patient and the benefits of the product are maximized.
With privileges at leading area hospitals Dr. DeRoberts provides his patients the finest facilities and medical professionals in central New York. Syracuse plastic surgeon Dr. DeRoberts is affiliated with Upstate at Community-General Hospital, Crouse Hospital, St. Joseph's Hospital Health Center and University Hospital SUNY Upstate Medical Center.
In celebration of DeRoberts Plastic Surgery's one year anniversary, Dr. DeRoberts is currently offering specials on breast augmentation surgery and tummy tuck (abdominoplasty). Both of these specials include all surgical fees, anesthesia and operating room fees.
To learn more about our anniversary specials, see before and after photos and read our patient testimonials, visit our website at http://drderoberts.com/. To make an appointment for a consultation for any cosmetic procedure please phone our office at 315-299-5313.
About Dr. DeRoberts
Educated in New York, Dr. DeRoberts attended Cornell University, University of Buffalo, SUNY Upstate Medical University at Syracuse and completed his internship and plastic surgery residency as chief resident at Wake Forest University Baptist Medical Center.
Dr. Dean DeRoberts is a board certified Syracuse plastic surgeon, with certifications from The American Board of Plastic Surgery, and is an active member of the American Society of Plastic Surgeons. Dr. DeRoberts also serves on numerous boards and committees; he has also been a featured speaker at the American Society of Aesthetic Plastic Surgeons annual conference.
###