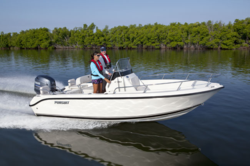 Our commitment from the start was not to build the most boats in the market but to build the best
St. Joseph, MI (PRWEB) February 13, 2012
The Grand Rapids Boat Show represents an annual homecoming, of sorts, for a special brand of boats born and bred in West Michigan.
Pier 33 Marina, of St. Joseph, MI, returns again to the 2012 Grand Rapids Boat Show with Pursuit Boats and boaters throughout the region will recognize the Michigan heritage found in this premium-quality line. Pursuit is a division of S2 Yachts, based in Holland, Michigan. S2 is also the parent corporation of Tiara Yachts.
S2 founder Leon Slikkers began his boat-building career in the 1940's with Chris Craft and later began production of the Slickcraft brand in a small factory on Washington Avenue in Holland. Throughout the 1960's, the reputation of the Slickcraft brand grew and Leon Slikkers then incorporated S2 Yachts in 1974 to begin manufacturing sailboats. The Pursuit series of fishing boats was introduced in 1974. Pursuit Boats are now built in Fort Pierce, FL, with production of S2's Tiara brand remaining in the Holland. According to Pursuit President Thomas Slikkers "Our commitment from the start was not to build the most boats in the market but to build the best. Pursuit has a heritage reaching back to 1946 when my father first began building boats by hand in Holland, Michigan. Today, sixty-five years of boat building experience goes into every Pursuit we build and sell".
With that boat-building heritage spanning seven decades, the Slikkers family has deservedly earned a reputation for the highest standards of quality and design. Those standards will be on display during the Grand Rapids Boat Show.
Pier 33's display at the show will include the local debut of Pursuit's new C180, a tough but elegant center console recently introduced, plus a return to the show of the 280 Sport and 230 Center Console. Pier 33 will also display the 265 Dual Console in Grand Rapids for the very first time.
Pursuit builds a wide range of center console, cabin and dual console designs from 18 thru 38 feet. Pier 33 is a full-service marina and dealer for new boats from Pursuit, Chaparral and Scout and Pier 33 is located in St. Joseph, Michigan.
Pier 33 has devoted a webpage for the boat show: http://www.pier33.com/boatshows and will also be updating boaters regularly through http://www.facebook.com/pier33marina. The 2012 Grand Rapids Boat Show will be held February 15 thru 19 at DeVos Place in downtown Grand Rapids, MI.
###