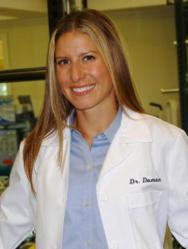 "All aspects of my life have improved since I started chiropractic care with Dr. Doman. I am able to do my complete workout regimen without pain. My energy level has certainly increased." - David Bruton, NFL Safety (Denver Broncos)
Miami, FL (PRWEB) February 15, 2012
One big issue that is starting to come to the surface is that with all of the well-intentioned yoga teachers out there (of varied levels of training) yoga can in fact be the CAUSE of pretty serious injuries.
A recent article in the New York Times 'How Yoga Can Wreck Your Body' is causing a wave through the lay and medical communities, and ABC News has also highlighted the growing problem.
Dr. Sandy Doman, a Miami based chiropractor and yoga teacher, specializes in treating spine pain and also teaches yoga teachers how to work with people who have injuries, bridging the gap between yoga and medicine.
Dr. Doman is the President of the Dade County Chiropractic Society and the author of yoga teacher training series, 'Dr.Doman's Guide to Working with Injuries©'. She is the founder of Miami Sports Chiropractic & Yoga Center in Aventura, FL, is adjunct Faculty of Anatomy & Physiology for the Yoga Alliance (Largest yoga teacher certifying body in the world) and (the) adjunct Faculty at National University of Health Sciences (a chiropractic school in Chicago). She works with NFL and NBA athletes and everyday people to help them treat and relieve pain. Visit her online at http://www.drdoman.com.
To schedule an interview with Dr. Doman, contact Allen Media Strategies Rebecca Fuentes at (703) 589-8960 or rebecca(at)allenmediastrategies(dot)com.
###