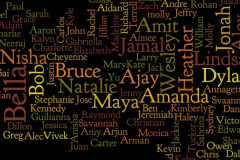 We cannot always build the future for our youth, but we can build our youth for the future.
North Hills, CA (PRWEB) February 15, 2012
My Name My Story announced the official launch of http://www.mynamemystory.org, an online platform to share inspirational stories of ordinary people doing extraordinary things. According to the founder Amit Dodani, a freshman in high school, "Most people look at other peoples' success as an instance of luck, not recognizing what the person had to overcome to succeed. I believe that everyone has a story." He had an urge to collect these stories of people overcoming, to inspire those that had similar challenges. Amit passionately states, "the current socio-political environment breathes a sense of fear and despair in the hearts of today's youth: our future leaders. To fill this gap of inspiration, I felt a need for this platform. So that our generation too can hope, believe, succeed and inspire."
As soon as one logs onto the, antique scroll-like, website they are immediately drawn to the tab labeled "The Stories." Some stories show the struggle and victory of people who have overcome cyber-bullying, epilepsy or a near fatal car accident, or even the story of strength and overcoming from a 9/11 World Trade Center collapse survivor. Amit shares his own story of challenges and victories that eventually inspired him to create http://www.mynamemystory.org: "When I was in elementary and middle school, I had various speaking issues that had required professional help. That entire process molded me into a sort of shy and nervous child. Finally, in 8th grade I got involved in my school's Mock Trial and Debate team. A year later, with the support of some incredible coaches and mentors, I ended up becoming one of the best speakers, winning various levels of County, State & National Speaking & Debating tournaments." As Amit continued his speaking career, his peers often thought that he was naturally born with the ability to speak, "they would actually get both - shocked and inspired when they heard my story!" That's when he realized the need for a platform that tells the "whole" story. As one goes through all the stories and reads about the struggles and the victories, one can feel the impact these stories will have on people across the world.
Once someone is inspired to share their own story, they can easily submit their story on http://www.mynamemystory.org. According to the website, the story just needs to satisfy one criterion: "does the story inspire the best in human kind." Once this simple requirement is met, the story is posted on the website for the world to experience. Amit explains, "I believe that when we share our stories, we are able to connect the world and inspire someone all the way across the globe - people that we may never meet or know. The ability to impact the future generations of the world in that way – now that is powerful!" He continues to add, "like Roosevelt had said: we cannot always build the future for our youth, but we can build our youth for the future."
Although the website is open to everyone around the world, one of the key elements of the My Name My Story (MNMS) cause is a grassroots school and college outreach program. MNMS is working with, and looking for, volunteer "MNMS Members", across the world in high schools and colleges. Their role is to reach out into the student body and encourage the students to read the stories and to identify stories within their school that can be shared on the website. There are also plans for "MNMS Live!" events in communities and schools around the world starting the summer of 2012.
About My Name My Story:
http://www.mynamemystory.org was founded by Amit Dodani. His parents, who are entrepreneurs themselves, run several companies including their own strategic business consulting company, provide the business support for the project. The rest of the day to day operation and fundraising for this organization are done by volunteers called MNMS Members, Visionaries and Legacy Supporters. Along with being passionate about MNMS, Amit is actively involved in speech and debate, student council and high school basketball.
###