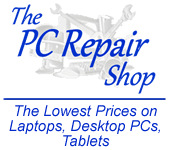 Besides having really low prices and many high quality products, support from The PC Repair Shop is handled by knowledgeable associates who work hard to ensure customers are satisfied with their purchases.
Ocean Springs, MS (PRWEB) February 14, 2012
The PC Repair Shop, Inc. today unveiled its vision for Next Generation Technology solutions that will address and empower the continuing growth of customers, facilitate newer and higher quality products, and engage the ever more knowledgeable and smarter consumer. With an initial focus on retail, The PC Repair Shop, Inc. is a complete approach for purchasing the latest technology solutions that will help transform customers and businesses large and small into even more productive and profitable consumers.
After three years in business, the shop is making plans to expand our service sector, locally and nationally. The PC Repair Shop is an Online Store offering the Lowest Prices on Laptop and Desktop Computers, Computer Hardware and Software, Video Games, Electronic Gadgets, Accessories and more. The shop, which is located in Ocean Springs, MS, opened for business in 2009, but has been serving the local community for several years.
KEY FACTS
Next Generation Technology Solutions

In developing its storefront for next generation technology solutions, The PC Repair Shop, Inc. has defined several key sectors of technology, including advanced computing devices, enhanced information resources, adaptive networking products, integrated communications devices, new software providers, the knowledgeable customer, and security enhancing products.
The next generation of technology will empower the growing mobile workforce by expanding the range of devices to more consumers so they are connected with the devices seamlessly, leading to enhanced productivity.
By providing technology services beyond just retail, customers will be able to further learn and make decisions that increase order satisfaction and drive interests.
To engage and connect with the smarter customer, next generation technology solutions will deliver solutions that improve and enhance customer relationships and experiences.
These products are backed with 12+ years of knowledge and experience in the technology field, from advanced services to help plan and deploy the next generation of network and technology solutions to onsite and remote support.
SUPPORTING QUOTE
Jeremy Moore, president and director, Technology and Network Solutions, The PC Repair Shop, Inc.
"Very often, I found while working in the IT field that customers wanted sources for low priced, high quality computers, parts, and other electronic gadgets. To help engage my customers with the products they demand, The PC Repair Shop, Inc. was born. Customers will experience fundamental changes to technology increasing their device usability, service availabilities and seamless computing experiences over the next few years. Along the way, The PC Repair Shop, Inc. will be available to help make customers technological experiences more complete and satisfying."
SUPPORTING RESOURCES
Website: The PC Repair Shop, Inc. The PC Repair Shop
Blog: The PC Repair Shop, Inc. Blog The PC Repair Shop Blog
Twitter: @PCshopowner
About The PC Repair Shop, Inc.
The PC Repair Shop, Inc. is a leading provider of technology solutions and services for at home shoppers to business customers. Through site optimizations and recent expansions, The PC Repair Shop, Inc. aims to provide its customers the best experiences with researching and purchasing new technology.
To learn more, visit http://www.pcrepairshop.org. For ongoing news, please visit our blog The PC Repair Shop Blog or subscribe to our blog feed The PC Repair Shop Blog Feed.
###