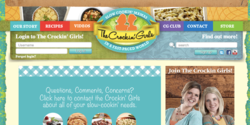 "We are pleased with marriage of solid idea and stable technology that make Crockingirls.com the success it promises to be."
Dallas, Texas (PRWEB) February 15, 2012
Crockin' Girls Jenna Marwitz and Nicole Sparks, best friends and business partners who champion the slow-cook method for busy moms, launched a new web site late last month. The site is already on track to have 100,000 users with recipes and videos added daily, proving they have not only a savvy sense of what busy moms and cooks care about but their pulse on a simmering phenomenon.
The Crockin' Girls tapped Dallas-local website experts US Joomla Pros to bring their vision of a friendly, open community to the Internet. The web site allows their community to grow at an accelerated pace without being held back by technology or some of the inherent usability that rapid growth can sometimes bring.
Shawn & Scott Prendergast of US Joomla Pros helped deliver the Crockin' Girls website. Using the Joomla Content Management System, they have demonstrated how a solid knowledge of this system, social aspects of programming and interactive marketing could manifest this dream idea into reality. "Using key components in Joomla such as Community Builder and K2, plus understanding how Joomla, PHP and MySQL can come together made a site that can grow so quickly a reality," Shawn said. "It's community-based sites like this one that require rapid growth out of the box, that really show how flexible and stable Joomla development can be," Scott added. "We are pleased with marriage of solid idea and stable technology that make Crockingirls.com the success it promises to be."
ABOUT CROCKIN GIRLS
Best friends, business partners, and small-town girls Jenna Marwitz and Nicole Sparks are known to their many slow-cooking aficionados as the Crockin' Girls.
A fun and fast way to post and share recipes with their family and friends quickly went viral, burgeoning into a highly trafficked website and widely "Liked" Facebook page. Their tagline, "Slow Cookin' Mamas in a Fast-Paced World," perfectly encapsulates their philosophy of helping busy folks spend less time in the kitchen and more time with their loved ones.
For information about the Crockin' Girls cookbooks, magazine, and other publishing inquiries, please email publishing(at)crockingirls.com
For media and appearance inquires, please email media(at)crockingirls(dot)com
ABOUT US JOOMLA PROS
US Joomla Pros has created a solid reputation by being one web and Joomla-focused company that does what we promise. We have relationships with clients that span years because we deliver on our promises and bring in work timely and at a reasonable cost.
Our team is made up of interactive marketing professionals that bring a unique perspective to your project. We are experts in online marketing strategy, information architecture, PHP and open source programming, CMS (Joomla, Wordpress, Drupal) Customization, Search Engine Marketing, Search Engine Optimization, Social Media Marketing and Pay-Per-Click Advertising.
For more information, contact: Scott Prendergast scott(at)usjoomlapros(dot)com.
###