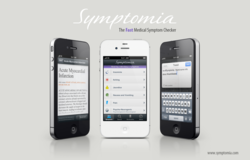 Quick access to detailed yet easy-to-understand medical information in just 2 taps.
(PRWEB) February 15, 2012
Phenomenal Code has announced the immediate worldwide availability of SYMPTOMIA, a fast medical symptom checker app for the iPhone and iPod touch on the iTunes App Store. The application allows laypeople and healthcare professionals quick access to medical entries in just 2 taps on the screen. "Our primary objective was to make quality medical information quickly accessible on a mobile device," says Aage Granaas, founder of Phenomenal Code, a mobile application development company focused on apps that have lasting value.
What's different about it?
Many sources of medical advice exist online but take considerable time for users to reach—and understand—the information they want. SYMPTOMIA is uniquely quick and easy to use.
On entry the main symptoms are listed and illustrated—ranging from fever to chest pain. A single tap brings you a list of common diseases and disorders that can cause the symptom. On the second tap, the user reaches the information needed: including both a description of the illness and advice on treatment and prevention. This page can then be bookmarked so that it's even quicker to find next time. A search function is provided for quickly looking up articles by name.
The speed of SYMPTOMIA does NOT mean any compromise in quality of information—which comes from internationally respected healthcare expert Dr. Andrzej Wojtczak. "The key attribute in medical text is in the level of detail it contains," said Dr. Wojtczak. "We aimed for the text to be quite detailed but understandable for laypeople."
Presentation is clear and simple with a touch of humor too (check out the icons for constipation and diarrhea, for instance)—reflecting the care put into the app's user experience.
As an iPhone/iPod touch app, SYMPTOMIA is available anytime and anyplace you have your device with you—no Internet connection is required.
As a commitment to providing quality service, SYMPTOMIA has a direct link to the app's support site. An integrated Twitter client is also provided.
Symptomia is now available for purchase in the App Store. The app is in the English language. For more information about the app please visit http://www.symptomia.com
Watch a short video demoing SYMPTOMIA.
Dr. Andrzej Wojtczak is a professor of medicine and public health, former chairman of a clinical department of medicine, editor of medical textbooks of internal medicine, devoted academic teacher and a long-term expert and senior staff member of the World Health Organization.
About Phenomenal Code
Phenomenal Code SL is a mobile application development company with its headquarters in Barcelona, Spain. It creates mobile applications that have lasting value—well researched, intuitive, and beautiful. Their portfolio includes Symptomia, a fast medical symptom checker app. For more information, please visit http://www.phenomenalcode.com.
# # #