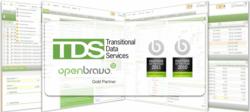 The TDS team consistently excels in supporting some of the largest and more complex ERP deployments using Openbravo in e-commerce, manufacturing, government and service industries.

- Paolo Juvara, CEO Openbravo
Hopkinton, MA (PRWEB) February 14, 2012
Transitional Data Services (TDS) has been recognized by Openbravo as "Partner of the Year" for the second consecutive year. This award is based on the continued success TDS has demonstrated in deploying and supporting Openbravo Agile ERP across North America.
Paolo Juvara, Openbravo CEO commented: "Based on outstanding performance in the USA and Canada, I am delighted to once again recognize TDS as Openbravo Partner of the Year in North America. The TDS team consistently excels in supporting some of the largest and more complex ERP deployments using Openbravo in e-commerce, manufacturing, government and service industries."
Unveiled at the launch of Openbravo 3 in 2011, Openbravo's Agile ERP approach is a significant departure from mainstream ERP, which requires companies to invest large sums in inflexible, monolithic systems. Unlike conventional ERP, Openbravo can be rapidly deployed and then extended over time with pre-packaged modules or plug-in customizations as required by business needs. Agile ERP from Openbravo is designed to enable business ability, increase productivity, and help companies realize proven ROI on their EPR investment.
"Openbravo 3 has been a game changer with broad customer appeal and has definitely moved Openbravo up-market," said Eric Kraieski, Vice President of Enterprise Applications at TDS. "Our diverse clients share a common and overwhelming desire for agile, cost effective solutions that can grow with them over time. The pace of change is relentless and Openbravo's ability to adapt while remaining efficient provides tremendous advantages to these businesses."
In addition to this award, TDS is an Openbravo Gold Partner and has developed many Openbravo add-ons, integrations and customizations for manufacturing, warehouse, ecommerce and service deployments. TDS offers a full suite of consulting, deployment and operational support services to help companies evaluate and deploy Openbravo ERP and other open source enterprise applications.
About TDS
Transitional Data Services provides independent assessments, improvements and operational support for IT including enterprise applications and infrastructure migrations in hybrid deployment environments. The TDS Enterprise Applications group leverages open source components and an agile deployment model to achieve rapid and lasting business value.
TDS clients include Kayak.com, Boston Red Sox, SAIC, Liberty Mutual, Devon Energy and many other companies of all sizes. What these diverse clients share is a common and overwhelming desire for flexible, cost effective solutions that can grow with them over time.
For more information visit: http://www.transitionaldata.com.
About Openbravo
Openbravo, "The Agile ERP Company," is the leading provider of commercial grade open source ERP software. Openbravo has been downloaded over 2M times and is currently in use in over 50 countries. The Openbravo platform is highly customizable and extensible using a plug-in / modular architecture. This plug-in architecture allows customers to customize Openbravo to support unique business requirements and take advantage of pre-integrated third party extensions available from the Openbravo Exchange. The Openbravo exchange now includes over 400 extensions, connectors and functional modules and continues to grow every day.
TDS, Transitional Data Systems and the TDS logo are trademarks of Transitional Data Services, Inc. All other trademarks are the property of their respective holders.
Press Contacts
Andy Ostrom, Transitional Data Services
press(at)transitionaldata(dot)com
+1.508.625.3030 x405
###