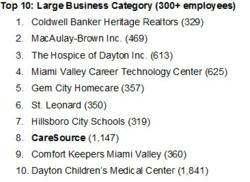 Dayton, Ohio (PRWEB) February 13, 2012
CareSource, a public-sector managed care company, has earned recognition by the Dayton Daily News and Springfield-News Sun on their first ever Top Workplaces list.
CareSource, listed at number eight in the large business category, joins the ranks of 60 other successful and well-respected Dayton area businesses like Hospice of Dayton, Peerless Technologies Corporations, Edward Jones Investments and Dayton Children's.
This recognition is the result of CareSource employees' responses to the Top Workplaces survey conducted by Workplace Dynamics in the fall of 2011. The survey, which received an overwhelming response rate of 80%, measured qualities such as company leadership, compensation and training, workplace flexibility and diversity.
CareSource employees said:

"I feel I truly make a difference in people's lives."
"Helping people who can't afford to pay for health insurance, the work atmosphere and great people are my motivation for working at CareSource."
"I feel like I am a very valued employee. My managers treat me as if I am a great asset to the company and my experience and ideas are respected by others."
"We are honored to be a part of the first Top Workplaces list and are extremely proud of the unique culture here at CareSource," said Pamela Morris, President and CEO. "As our organization grows, we are constantly searching for the very best talent to fill our open positions that include clinical, information technology and operational to name just a few."
About CareSource
CareSource is a non-profit health plan founded on the principles of quality and service, delivered with compassion and a thorough understanding of the Medicaid consumer. By staying true to its mission of making a difference in the lives of underserved people by improving their health care, CareSource has become one of the largest and fastest growing Medicaid managed care plans in the nation. Today, CareSource serves more than 900,000 Medicaid and Medicare Advantage consumers in Ohio and Michigan.
With a strong focus on preventive care, CareSource utilizes a continuum of care model to members at all stages of health and illness. In addition to all required services, CareSource offers extra benefits such as a 24-hour nurse advice line, transportation to doctor's appointments, and a variety of care management programs. For more information about CareSource, visit http://www.caresource.com.
###