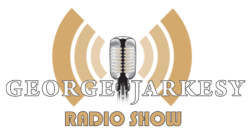 Houston, TX (PRWEB) February 14, 2012
The nationally syndicated George Jarkesy Radio Show is now available as a free Apple iTunes podcast series. George Jarkesy launched the radio show to provide an insightful and candid overview of the economy, markets, business, and politics, drawing upon his vast experience as a serial entrepreneur and investor. For more information on George Jarkesy and the show, visit the website at georgejarkesy.com.
The George Jarkesy Radio Show is an hour-long conservative and financial talk radio show that is hosted by George Jarkesy and co-host Dwayne Deslatte. The show aims to convey current events and economic issues in an entertaining manner, in order to empower listeners and reignite their passion for America. The show incorporates daily segments that go in depth into important issues.
To date, the show hosted prominent guests like:

U.S. Congressman Allen West and Economist Robert Murphy
o Listen To Show By Clicking Here

Reince Priebus, Chairman of the Republican Party
o Listen To Show By Clicking Here

Warren Mosler, Modern Monetary Theory Economist
o Listen To Show By Clicking Here

U.S. Congressman Kevin Brady
o Listen To Show By Clicking Here
You can tune in to The George Jarkesy Show by looking for an affiliate in your area or by clicking the 'Listen Live' button on their website at 4 PM EST, in addition to downloading on iTunes.
To subscribe to the iTunes podcast click here: The George Jarkesy Show – On iTunes.
About George Jarkesy and Jarkesy & Company
A money manager and professional investor, respected financial and corporate advisor, George Jarkesy is a frequent market commentator and guest on FOX Business News, FOX & Friends, and CNBC. He is also the host of the nationally syndicated 'The George Jarkesy Show', which launched in January of 2012. Jarkesy started his career in the financial services industry with a New York Stock Exchange member. Jarkesy also serves on the Finance Committee of the Republican National Committee and is an active member of the National Investment Banking Association, The Jarkesy Foundation, and Chairman of The National Eagles and Angels Association.
To contact The George Jarkesy Show
Jessica Elkin
Jarkesy & Company
281 290 6655 x 204
jessica(at)jarkesy(dot)com
Contact Dean Spinato for Internet Marketing @
Power Play International
516-234-0534
Dean(at)powerplayinternational(dot)com
###