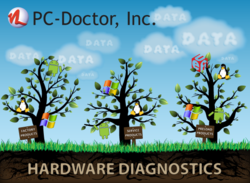 Reno, NV (PRWEB) February 14, 2012
PC-Doctor, Inc. has been recognized by the Reverse Logistics Association (RLA) with its Vendor Solutions Award at the association's annual conference in Las Vegas. It is awarded for demonstrated performance, including "measurable improvements in efficiency and return on investment" - http://rla.org/awards_vendor.php
Reverse logistics companies use PC-Doctor at many stages in the RL chain, from preloaded versions that reduce No Trouble Found (NTF) product returns, to repair and refurbishment operations. PC-Doctor products have a proven track record of ROI (return on investment) for reverse logistics cost savings.
Liz Barnes, Director of Worldwide Sales and Support said, "We are delighted to be recognized for excellence by the Reverse Logistics Association. We pride ourselves on delivering software which provides cost savings and increased efficiency for PC OEMs, as well as reverse logistics companies handling repair and refurbishment."
PC-Doctor participated in the annual conference with an exhibit, and also shared its experiences in the reverse logistics area through an expert panel as well as a presentation about the company's experiences with diagnostics for Android devices. Copies of the presentation are available by request or on our website at http://www.pc-doctor.com/android.
ABOUT PC-DOCTOR
Founded in 1993, PC-Doctor Inc. develops diagnostics and other system health tools that help PC makers, service centers, and IT organizations reduce costs, improve quality and enhance customer satisfaction. With more than 200 million units shipped worldwide, PC-Doctor's diagnostics are pre-installed on systems from four of the world's top five PC manufacturers. The company develops diagnostics for Windows, Linux, Android and other operating systems that run on leading Intel, AMD and ARM microprocessors. For more information about PC-Doctor and its products, visit http://www.pc-doctor.com or call (866) 289-7237. International customers should call (775) 336-4000.
© 2012 PC-Doctor, Inc. ALL RIGHTS RESERVED. PC-Doctor is a trademark of PC-Doctor, Inc., Reno, NV.
All PC-Doctor products are protected by one or more of the following patents: 6,742,148; 6,792,562; 6,829,726; 7,036,129; 7,139,954; 7,155,645; 7,356,744. Other patents pending. All other brand and product names are registered trademarks, trademarks or servicemarks of their respective holders and are gratefully acknowledged. Product specifications subject to change without notice.
###