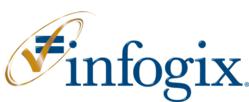 Naperville, IL (PRWEB) February 13, 2012
Infogix, Inc. a leading provider of business operations management and information governance solutions is proud to announce that their management reporting and measurement solutions are going mobile six months ahead of schedule.
In response to the needs of customers to access their management reporting and measurement tools when they are away from their desktop, Infogix has created the ability for desktop applications to be viewed on smartphone and tablet devices. This new capability gives customers more options to monitor and manage their company's business operations.
"The growing demand for flexible access to information has driven Infogix to provide our customers with cutting edge solutions to monitor and manage their key business processes. The ability of our solutions to provide access to mission critical information on mobile devices will significantly benefit our customers and their stakeholders, "said Bobby Koritala, Group Leader – Products at Infogix.
The increasing pressure to cut cost, provide real time operational information and address regulatory expansion calls for greater visibility and transparency within your key measurements and reports. Executives are looking for ways to transform their back-office operations to lower cost, reduce errors and improve cycle time. This greater mobility is just one way that Infogix is able to help business owners achieve these goals.
About Infogix, Inc.
Many of the world's largest enterprises depend on Infogix Controls to eliminate information errors. Infogix Controls are independent, automated and continuous. They can be deployed enterprise-wide across applications, platforms, and business processes. Infogix offers a powerful portfolio of software products and services to monitor, detect, and prevent information errors. Since 1982, Infogix has been providing Infogix Controls solutions to Global 2000 enterprises. Millions of Infogix Controls continuously monitor and assure the integrity of information in hundreds of enterprises everyday. For more information, call +1.630.649.6800 (U.S, Canada, and International), +44 (0)175.370.1060 (UK and Europe), or visit http://www.infogix.com.
###