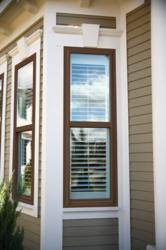 Today's homeowners are seeking top-quality vinyl windows due to their aesthetic value, low-maintenance features and long-term energy efficiency benefits.
- Gary Pember
Vice President of Marketing
Simonton Windows
Columbus, OH (PRWEB) February 15, 2012
Even during these belt-tightening economic times, homeowners are adding value to their homes by continuing to invest in remodeling projects. And, according to the Remodeling 2011–12 Cost vs. Value Report (http://www.costvsvalue.com), the replacement of older, inefficient windows with upscale vinyl replacement windows is one of the ten most popular projects with payback for homeowners.
"Adding energy-efficient, low-maintenance vinyl windows to the home can have an average payback of 69.1 percent according to the Cost vs. Value Report," says Gary Pember, vice president of marketing for Simonton Windows. "The same study shows that the average cost for such a replacement (involving 10 double-hung 3-by-5 vinyl windows with Low-E glass and simulated woodgrain trim) is $14,328.
"The good news is that, according to this study, the cost recouped at the time of selling the home with these new windows would be about $9,898. Even more importantly, homeowners investing in this type of remodeling project can save energy costs every single day once the new windows are installed."
Pember points out that, in the study, vinyl replacement windows had a higher return-on-investment than wood replacement windows. "Today's homeowners are seeking top-quality vinyl windows due to their aesthetic value, low-maintenance features and long-term energy efficiency benefits," says Pember.
According to the study, a vinyl replacement window project for a homeowner had a higher projected return-on-investment than several other popular home upgrade projects, including a bathroom remodel or addition, a major kitchen remodel, the addition of a master suite or the replacement of the roof. A window replacement project can be especially valuable for homes built prior to 1978 due to the importance of replacing lead-based painted windows in older homes.
"Lead-safe awareness should be a priority concern for homeowners," says Pember. "The potential dangers of lead dust poisoning from window frames in homes built prior to 1978 is frightening – especially for households with small children and pregnant women." Simonton offers a dedicated educational website at http://www.simonton.com/leadsafe and an informative YouTube video clip at http://www.youtube.com/simontonwindows that provides additional details on the company's lead-safe awareness initiative.
Window Investment
One homeowner who has seen stunning results from replacing his home's windows is Stu McDowell of Evergreen Park, Ill.
A year after replacing 11 old wood windows in his 1954 ranch-style home with ENERGY STAR® qualified Simonton windows, Northern Illinois Gas representatives asked to inspect his gas meter for possible faultiness. Because McDowell's energy usage was so low compared to prior years, the gas company as concerned that his meter was malfunctioning.
"There was nothing wrong with our meter," says McDowell. "It was our window investment paying off. We requested triple pane glass, Krypton gas filler and the Simonton Super Spacer® System in the glass package to maximize the efficiency of the windows. So, at a time when gas prices are soaring all over the country, our bills are like something out of yesteryear!"
Contractor Recommendation
Another homeowner, Mark Clement, in Ambler, Penn., found similarly impressive results when replacing the windows in his 100+ year old home.
"I'm a professional contractor, so I knew to look for quality-built windows when we decided it was time to replace our old mangled windows," says Clement, co-host of MyFixItUpLife radio show and website. "For my money, Simonton is the best brand available in the marketplace. Their multi-chambered construction and fusion-welded corners truly help reduce air and water infiltration into the home.
"As soon as we installed the Simonton windows, we noticed a reduction in our heating and cooling bills, plus our home was definitely more comfortable to live in year-round. I advise all of my customers that replacing older windows with top-quality vinyl windows is definitely a project that has both immediate and long-term benefits."
Simonton Windows produces ENERGY STAR qualified replacement and new construction windows and doors, including a line of impact-resistant products. Simonton ranked "Highest in Customer Satisfaction with Windows and Doors, Two Years in a Row" in the J.D. Power and Associates 2010-2011 Windows and Patio Doors Satisfaction Studies SM.
Simonton was also ranked #1 in quality in the 2009, 2007, 2002 and 1998 Brand Use Studies sponsored by Builder magazine and has won three Best In Class Awards administered by LBM Journal Research Institute.
Founded in 1946, Simonton's hallmark has been to deliver the industry's shortest, most dependable lead-times. Part of Fortune Brand Home & Security (NYSE: FBHS), Simonton delivers award-recognized products nationwide to key markets throughout the 48 continental United States. Simonton is a founding sponsor of The Weather Museum and a supporter of Homes for Our Troops. For information, call (800) SIMONTON (1-800-746-6686) or visit http://www.simonton.com.
PHOTOGRAPHY: Contact Kathy Ziprik at Kathy_ziprik(at)simonton(dot)com.
SIMONTON ON-LINE NEWS ROOM: http://news.simonton.com/
Simonton Windows received the highest numerical score among window and door manufacturers in the proprietary J.D. Power and Associates 2010-2011 Windows and Patio Doors Satisfaction StudiesSM. 2011 study based on responses from 2,605 consumers measuring 11 brands and measures opinions of consumers who purchased new windows or patio doors in the previous 12 months. Proprietary study results are based on experiences and perceptions of consumers surveyed in March-April 2011. Your experiences may vary. Visit jdpower.com.
ENERGY STAR is a government program that helps consumers protect the environment through superior energy efficiency and is a registered trademark of the U.S. Department of Energy and the U.S. Environmental Protection Agency.
Source Information: http://www.remodeling.hw.net/2011/costvsvalue/national.aspx. © 2011 Hanley Wood, LLC. Complete data from the Remodeling 2011–12 Cost vs. Value Report can be downloaded free at http://www.costvsvalue.com.
# # #