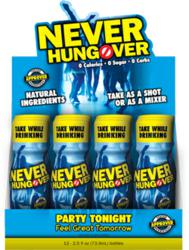 Before Never Hungover I would be in bed the next day hungover with a migraine. After, Never Hungover, I haven't had a hangover or headache since. I WON'T go out drinking without my miracle potion. - Heather L. , Knoxville, TN
Austin, TX (PRWEB) February 14, 2012
Never Hungover, LLC is pleased to announce the formal launch of Never Hungover™, the industry's first natural, sugar free and calorie free hangover preventative drink. Comprised of natural antioxidants, amino acids, and vitamins and minerals, Never Hungover™ helps the body process acetaldehydes — harmful toxins produced by alcohol — into acetic acid so it can quickly leave the body, preventing a hangover. It is this first all-natural hangover preventative on the market and may be taken as a shot or as a mixer.
Originally created in 2006 as a post surgery healing remedy, Never Hungover has come to market honestly. "In 2006, my 25 year-old sister was diagnosed with Lupus, an autoimmune disease where the body's immune system becomes hyperactive and attacks normal, healthy tissue," says founder and President, Parrish Whitaker. "My Father, then 65 years old, donated a kidney to save her. Their recovery was enhanced by a nutrient-rich antioxidant which returned them to full health much faster than normal. I was so impressed with this product I felt there must be other uses," he continues. "Being curious, I experimented and discovered that the antioxidant drink also prevented a hangover when taken while drinking. It worked so well, I felt my findings should be shared with the world and thus, Never Hungover™ was born."
Never Hungover is currently available in 200+ convenience stores, groceries and bars throughout Austin, or through the online store on the company website http://www.neverhungover.com. Please visit the "Where to Buy" section of the website for a location near you.
About Never Hungover
Founded in 2010 by Parrish Whitaker, Never Hungover, LLC was created to bring a natural hangover preventative drink to the world. As a Texas-based company, Never Hungover is manufactured in Dallas with headquarters in Austin, and distribution has begun throughout the United States. Look for Never Hungover in your local convenience store or grocery, or ask for it by name at your favorite bar. For more information, visit http://www.neverhungover.com.
###