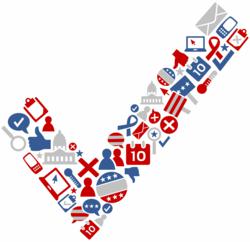 Multi-channel donors give more – so political fundraisers need to reach them via all available channels.
Springfield, VA (PRWEB) February 16, 2012
Marketing data solutions provider, Relevate, notes that with the 2012 campaign is in full swing, political consultants, campaign managers and strategists are looking for every available touch point to reach voters and donors. While mobile and social marketing continue to be tested, direct mail, email and telemarketing campaigns are tried and true methods for getting out the vote and reaching donors. At The Great Debate, an event held by the Direct Marketing Association of Washington, strategists from both the Republican National Committee and Democratic National Committee stressed how an integrated approach to political fundraising has not changed. Multi-channel donors give more – so political fundraisers need to reach them via all available channels.
When quick turnaround is key, appending phone numbers to constituent or donor files can be done in a matter of hours so that campaigns can call individuals to invite them to an event, or to get them to the polls. Relevate pioneered computerized telephone number appending in the 1970s and its Telematch® services have been relied upon by political candidates and marketers for decades. For candidates without constituent files, 411 telephone data can be provided within the candidate's congressional district. Likewise, mailing lists can be selected in the correct geography.
Keeping political activists engaged is one way to turn them into donors. How do campaigns do this? By communicating with them through a variety of channels. The more touch points a campaign has, the more likely they are to get a conversion.
As direct mail slows down closer to elections, online communications ramp up. Appending email addresses to donor lists ahead of time allows campaigns to reach out via email. Likewise, if campaigns are collecting email addresses online, they can be reverse appended with a valid name, postal address and phone number.
To summarize, having multiple touch points is important. Campaign managers need to ensure they have the best data, by using phone append, email append and reverse append services to ensure that the campaign can communicate via every available channel to raise funds and get out the vote.
About Relevate™
Relevate, with its headquarters in Springfield, Virginia, is a leading information services provider offering a comprehensive range of marketing intelligence and digitally driven marketing solutions, utilizing high-quality data sources. For more information, call (800) 523-7346, or visit http://www.relevategroup.com.
# # #