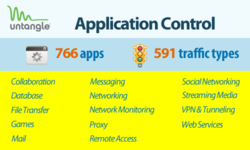 "Our customers have been asking for a more precise approach to filtering that enables them to control even the most elusive applications and protocols. Application Control exceeds that requirement."
Sunnyvale, California (PRWEB) February 15, 2012
Untangle, Inc., a network software and appliance company, today announced the release of Untangle® 9.2 featuring Application Control, the latest addition to its multi-function firewall software. Application Control protects organizations by allowing granular control of any unwanted or untrusted applications that could hinder productivity, reduce security, or present compliance violations.
Application Control analyzes the traffic running across the network, accurately identifying hundreds of today's common applications such as social networking, peer-to-peer, instant messaging, video streaming, file sharing, enterprise applications, web 2.0 and much more.
"Our customers have been asking for a more precise approach to filtering that enables them to control even the most elusive applications and protocols. Application Control exceeds that requirement," said Amy Abatangle, Vice President of Sales and Marketing. "For example, Application Control can allow users to visit Facebook, but block games or video. This enables organizations to access Facebook for corporate marketing functions while minimizing productivity and bandwidth drains from entertainment features." Riskier protocols or applications, like BitTorrent, Pando and Usenet, that not only present a bandwidth drain but could carry a malware load, can be kept off the network altogether.
The ability to control applications and protocols, while powerful, is not unique to Untangle. What Untangle brings to the market is unprecedented ease-of-use and a fully integrated filter control system in its industry-leading Integrated Rules Engine (IRE).
For most common cases and protocols, network administrators can simply click to allow, block or flag applications. Application Control does the rest, keeping the undesired traffic from flowing in or out of the network. For a greater degree of control, administrators can create custom rules in the IRE, which target more complex traffic patterns.
The IRE allows Application Control to work in concert with other aspects of the multi-function firewall suite to enable rule-based blocking of the most challenging traffic types. In fact, this integrated approach is the only known way to control protocol-agile applications like the Ultrasurf proxy. Untangle users can think about the IRE as a voting expert system that accepts inputs from all Untangle filters and then meters out blended control responses based on threat type and policy.
Untangle's aggressive pricing, flexible deployment options, trial downloads and online store make it easier than ever for organizations of any size to benefit from enterprise-grade security and filtering.
Availability & Pricing

About Untangle
Untangle, a network software and appliance company, provides a new breed of multi-function firewall and Internet management applications that are optimized for the unique needs of smaller organizations. With a free multi-function firewall at its core and a suite of complementary Internet management applications, Untangle's superior solutions are available at the lowest upfront cost and are easy-to-deploy and manage. Untangle's proven network software solutions are installed in over 30,000 organizations, protecting more than 2 million people and their computers. With its try-before-you-buy approach, Untangle enables organizations to take control of their network within minutes and at no risk. Untangle is located in Sunnyvale, California. For more information, visit untangle.com or call (866) 233-2296.
PR Contact:
info(at)untangle(dot)com
Untangle, Inc.
Untangle® is a registered trademark of Untangle, Inc.
###