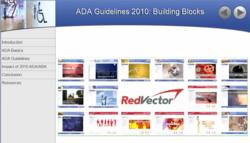 "We're excited to add these courses to our growing online library and help educate our users on important new regulations and requirements." Jeff Nippes, Director of Content Development for RedVector
Tampa, FL (PRWEB) February 14, 2012
RedVector.com, the leader in online continuing education for the AEC industry and a pioneer in online green building courses for design and construction professionals, announced recently the addition of two new courses to its robust web-based CE and training library: ADA Guidelines 2010: Building Blocks and Renewable Energy Fundamentals.

ADA Guidelines 2010: Building Blocks provides essential information about new ADA standards scheduled to go into effect in March of 2012. The 1-hour course outlines the basic building blocks of accessibility established by the 2010 ADA Standards for Accessible Design and includes key changes and compliance guidelines.
Renewable Energy Fundamentals is a 2-hour webcast that focuses on the growing need for alternative energy sources and explores new and existing technologies as well as the advantages and disadvantages of implementing, operating, and maintaining various renewable energy sources.
"We're excited to add these courses to our growing online library and help educate our users on important new regulations and requirements," says Jeff Nippes, Director of Content Development for RedVector. "The ADA Guidelines course is the first in a series on the new guidelines that will go into effect March 15 and will be critical for AEC professionals, and the topic of renewable energy is critical not only for construction professionals but really for everyone. It's important to stay abreast of the latest technologies that will help decrease our dependence our fossil fuels and increase our ability to produce clean, renewable, and sustainable energy."
Both courses were authored by architect and certified planner Rumanda Young, PhD. Dr. Young works currently as a Military Master Planner with the U.S. Army Corps of Engineers in the Planning, Environmental, and Regulatory Branch and is involved in a variety of military planning, programming, and design projects.
Among the first to offer high-quality online CE for architects, engineers and construction professionals with a focus on green building and sustainable design, RedVector delivers its innovative webcasts through its industry-leading AEC Learning Management System. The RedVector LMS offers convenient 24/7 access to a robust online education library to help individuals as well as entire organizations acquire the essential education needed to advance their skills and emerge as industry leaders.
About RedVector
RedVector sets the standard for excellence in online continuing education for licensed and certified professionals in AEC industry and holds more than 60 state and national accreditations. With an online library exceeding 1,100 courses authored by more than 100 subject matter experts and spanning all 50 states, RedVector serves more than 130,000 architecture, engineering and construction professionals. The recipient of numerous community honors and industry awards, RedVector was founded in 1999 and is headquartered in Tampa, Florida. For further information call 1-866-546-1212 or visit http://www.redvector.com.
###