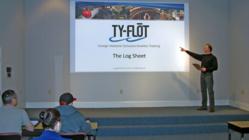 "Any lack of engagement, awareness and understanding of issues surrounding FME warrants immediate training attention. The costs and risks are just too high to ignore." Darrell Moreau Ty-Flot GM, Co-founder
Manchester, NH (PRWEB) February 15, 2012
Ty-Flot, Inc. has long been known for its extensive and innovative line of foreign material exclusion (FME) and DROPS products, but that is expanding. After returning from another successful FME training, this time at the D. C. Cook plant, a nuclear power plant in Bridgeman Michigan, Ty-Flot representatives have continued to realize an increase in demand for training, staffing support and advice surrounding FME and DROPS. They attribute this trend to the rising concerns for safety, cost control and operational efficiency in the energy industry and many other industries as well.
There is a growing awareness of the increased benefit of cultural, skills and behavioral training to improve operations in industries – including, but not limited to: nuclear and fossil fuel, high-rise construction, off-shore drilling, bridge building, crane services and chemical plants – just to name a few. Supporting this trend, a recent studies from Gallup revealed that 72% of working America is disengaged with their work and not satisfied with what they do – revealing a dramatic cultural problem. This was also defined as essentially "sleep walking throughout their day". Also, according to the recent research, a disturbing 18% of disengaged employees actively "undermine their co-workers' success". According to Darrell Moreau, co-founder and General Manager of Ty-Flot, "Any lack of engagement, awareness and understanding of issues surrounding FME warrants immediate training attention. The costs and risks are just too high to ignore."
Having recently commissioned extensive research with local growth strategy firm, Innerspire, on shifts and trends in their global marketplace, the research noted that the growing need for training and staffing related services overseas stems from a large percentage of lead managers and operational and safety staff reaching retirement age, especially in the expanding markets in China, Japan and other key Asian and European industrial regions. This has created an increased demand for training for the younger team members. Accordingly, Ty-Flot has ramped up their online and offline branding initiatives - focusing on training, client interaction and opening up lines of communication - to increase availability of their extensive industry expertise.
According to a company spokesman, their focus has been on supporting time savings, safety and operational efficiency, by creating cross-industry insights that reveal critical program factors, behavioral conditioning and preventative and problem solving tools.
"The focus has always been on developing a culture of prevention and of understanding the importance of FME. Now we are becoming recognized as a worldwide leader in providing this culture in our products, staffing and training services." – Matt Moreau, Strategic Business Development Manager
Ty-Flot management noted that their recently completed D.C. Cook training program was just one in a long line of training programs that has put the focus on each sites' specific procedure, while educating and challenging personnel to understand why and how FME is practiced. Underlining the effectiveness of their programs, Ty-Flot noted that the most frequent feedback from the classes and their clients was that their training should be a required class for everyone on site and that staffing services are the best available.
Theresa Fessler, Point Beach FME Coordinator noted, "I hired Ty-Flot to perform my monitor duties for our outage. I believe I had the absolute BEST monitors ever sent to Point Beach."
Ty-Flot has worked with many sites around the world to promote FME awareness and has led their charge by distributing almost one hundred carefully engineered display boards free of charge, trained nearly 300 FME monitors in 2011 alone year, worked with distribution in many countries specifically for educational purposes, including France and Japan, spoken with a number of fossil plants and provided basic FME importance training, and was selected for and is currently staffing FME monitors for the 2011 start Point Beach Unit 1 refuel outage.
Any site working to enhance their FME program should consider talking to Ty-Flot. Their growing list of successful trainings and friendly staff has proven them worthy and willing to deliver. Ty-flot has created this helpful FME advisory video to reveal the importance of capitalizing on FME training to improve safety and efficiency.
###