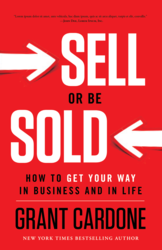 Los Angeles, CA (PRWEB) February 13, 2012
New York Times, Wall Street Journal and Amazon best selling author and international sales expert Grant Cardone announced the launch of his fifth book since the 2008 Financial Crisis, Sell or Be Sold. Sell or Be Sold was written to provide readers a roadmap to achieve their goals and success in life no matter the economy or external environment.
In Sell or Be Sold, Grant Cardone demonstrates why every individual, household and company needs to be able to generate revenue. At length, the book warns the reader that they are either being sold by a steady stream of negative information and will get sidelined by it or they are going to be doing the selling and thereby creating opportunities to get what they want in business and in life.
"Everyone is now a salesperson, regardless of their title," said Grant Cardone. "Second incomes are becoming vital to the survival of the middle class. With the job market stagnant more individuals are leaving the job market to pursue entrepreneurial endeavors for the first time and the success of new start ups is all about driving sales."
"Sell or Be Sold will provide readers the tools required to generate revenue in a contracted market, how to handle rejection, turn around negative situations, shorten sales cycles, and guarantee that you can push through all the noise of the market place and get yourself and your ideas known and funded," added Cardone.
"Greenleaf Book Group is excited to publish Grant Cardone's newest title, Sell or Be Sold," said Clint Greenleaf, CEO, Greenleaf Book Group. "The market is primed for Grant's no-nonsense approach to mastering the art of selling, and this book will quickly become the go-to-guide for achieving the results you want, personally and professionally."
Cardone's dedication to taking massive action and living by the precepts embraced in his books have enabled him to amass a personal fortune and level of success in life that many only dream of. Since the 2008 financial crisis, he has been a guest on Fox News, Fox Business, NBC, MSNBC, CNBC, CNN and Bloomberg providing individuals and businesses real advice on what they must do to flourish and prosper no matter the economy. Cardone also produced and starred in his own reality television show, TurnAround King, entering struggling companies and demonstrated simple strategies for turning around their businesses and was featured on a segment of Selling LA and How Did You Get So Rich and is the host of The Cardone Zone, a soon to be nationally syndicated regional radio program.
###