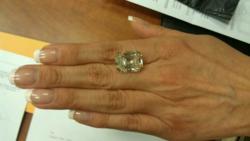 Come on down to the 'Roadshow' to see for yourself some of the most interesting, obscure, and rare items that people have brought in.
Oak Harbor, WA (PRWEB) February 14, 2012
Antique collectors and treasure hunters alike are thrilled with the recent announcement that the Great Estate Roadshow has added a stop in the Oak Harbor, Federal Way, Bellevue, Redmond, Renton, and Puyallup areas on February 13th through February 18. The Great Estate Roadshow is one of the nation's premier buyers of antique goods, collectibles, gold, and precious metals and visits up to 50 cities per month and over 500 cities per year in nearly every state in the U.S.
"Due to the unbelievable high prices of gold and silver, the Great Estate Roadshow has seen an increase in the number of people attending our tour events," said Howard Klotzkin, a partner in the Great Estate Roadshow. "People can 'fund raise' by cashing in on the value of precious metals and their unwanted items."
Staff members at the Roadshow will evaluate jewelry, rings, watches and vintage pieces at no charge. Klotzkin also states that the Great Estate Roadshow is actively seeking war memorabilia and antique toys for its national network of collectors. Silver coins, especially those made before 1964, gold coins, Kruggerands, gold bars, mint sets and proof sets are desired as well.
Klotzkin shares some of the secrets to the recent successes of "attic treasure hunting." "Many of our customers are surprised to learn that old coin collections in grandpa's attic or mom's old fashioned and ugly jewelry has real value in today's economy. Silver jewelry, flatware, tea sets and serving sets are also at high demand for their metal value," Klotzkin stated.
"Evaluations are always free and there is never pressure to sell. We encourage everyone to bring their treasures in for a quote," Klotzkin noted.
Great Estate Roadshow Gem Specialist, Scott Pollak said, "There is nothing more exciting than a customer realizing the true value of discarded jewelry or a dusty autographed baseball card. The crowd really gets into the fun of the discovery!"
"The process for obtaining a free, no-obligation evaluation from the Great Estate Roadshow is simple and straight forward. Potential sellers should bring their antiques, collectibles, coins and jewelry to the nearest Great Estate Roadshow," said Pollak.
Due to the high interest in the Great Estate Roadshow tour, Klotzkin advises that sellers may experience brief wait times while experts evaluate the value of everyone's treasure. Chairs are provided in the waiting area as well as assistance to those who may have difficulty unloading more difficult items such as a Tiffany lamp from vehicles.
"Don't worry," laughs Pollak. "We will get to everyone's treasures, but it's a good idea to come early! We're only planning on a few days in each city on the tour."
Once a Great Estate Roadshow staff member has evaluated all items, a purchase price is offered to the potential seller. Several elements are taken into consideration when calculating an offer including current market value and condition of the items in question.
"The Great Estate Roadshow works with a national network of collectors so some items may be more valuable outside of your local area," said Pollak. "The Great Estate Roadshow may have a particular collector in mind for a specific item and can offer more competitive pricing than a local dealer could."
In the Oak Harbor and Seattle areas, from Monday, February 13th through Saturday, February 18th, 2012, the Great Estate Roadshow will offer free appraisals during the hours of 10:00 a.m. to 6:00 p.m., Monday through Friday; and Saturday from 10:00 a.m. to 4:00 p.m., at the following location:Best Western Plus, 33175 SR 20, Oak Harbor, WA 360-679-4567; Clarion Inn, 31611 20th Avenue, South Federal Way, WA98003 (253) 941-6000; Sheraton Inn, 100 112th Avenue, Northeast Bellevue, WA 98004 (452) 953-5395; Redmond Inn, 17601 Redmond Way, Redmond WA 98052 (425) 883-4900; Holiday Inn, One South Grady Way, Renton, WA 98057 (425) 226-7700; and Best Western Inn, 620 South Hill Park Drive, Puyallup, WA (253) 848-1500.
About Great Estate Roadshow
The Great Estate Roadshow is proud to have amassed a team of the most experienced and knowledgeable coin, diamond, gold, and silver professionals in the business together into this "dream team" who can accurately evaluate all your treasures, and even offer to buy them on the spot. The Great Estate Roadshow's team travels the globe buying everything from the most exquisite collectible pieces, to common scrap gold and silver coins, being received by crowds of people anxiously awaiting the Roadshow's arrival into town. The result – an interesting and fun experience that you'll be jumping with excitement to enter, and won't want to leave.
Come on down to the 'Roadshow' to see for yourself some of the most interesting, obscure, and rare items that people have brought in. When you come, bring in anything and everything you'd like to get evaluated or to sell. There's no fee for admission or for evaluations, so grab your friends and family, and we'll see you there. Call 888.537.8283 or visit http://www.greatestateroadshow.com.
###