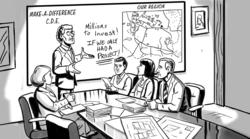 Social media video views have more than tripled within the past three years.
St George, UT (PRWEB) February 21, 2012
Explainer Videos: A Social Video Must
People spend more time viewing videos on computers than TV. This is clearly obvious by the amount of time spent streaming the internet, and by the fact that people are reading this article. Succeeding companies understand the need for social media videos, they are everywhere.
In a Social Video Advertising Report, it explains how social media video views have more than tripled within the past three years. Companies need to hurry and catch on.
People Enjoy Humorous Videos
The most popular explainer videos, social videos, or video campaigns are ones that bring humor into their videos. People love to laugh, and many sources show that humorous videos receive more views than any other video, including more viewings than music videos, celebrity videos, and product demonstrations.
Launch Explainer Videos on Thursday
Video releases are shown to be most successful when released on Thursdays, with the close runner up as Tuesday, while most companies are choosing Monday, Tuesday, and Wednesday. Think twice before releasing a video on those days. Data also shows that many successful social media videos are usually released in the months of January, February, and March, with the leader as February, the second January, and the third March. The lowest months for video releases were July and December.
Video Marketing Campaign Steps
One, create a script with informational, humorous content.
Two, create a compelling video.
Three, Launch it on Thursday morning.
Four, see business skyrocket.
Ydraw is an explainer video company specializing in Whiteboard Animation videos. Watch as professional artists sketch intricate drawings and make complicated, dull information into a humorous masterpiece.
###