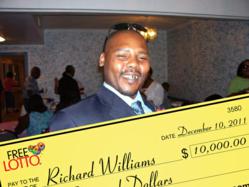 On January 6, 2012, Rabito matched all six of the winning numbers and won $10,000.00.
NEW YORK, NY (PRWEB) February 15, 2012
The online lottery-style sweepstakes, FreeLotto.com has awarded a jackpot prize to loyal player Mark Rabito, of Torrance, California. Rabito joined the website back in January 2000 and has played nearly every day for twelve years. Rabito has matched some numbers over the years and won forty-two small prizes, thirty-five of which he chose to donate to Covenant House and the Association for Science in Autism Treatment through the FreeLotto Click2Give Charity program. Click2Give facilitates the donation of small prize winnings to twenty-three participating charities. On January 6, 2012, Rabito matched all six of the winning numbers and won $10,000.00.
The website, FreeLotto.com, offers members six games to play for free with the chance to win over $11,000,000.00 daily. The games are the $1 Million Cash Classic, Win a Car, Pay Off Your Mortgage, FastCash, $100,000 GiveAway, and SuperBucks, with a jackpot of $10 million. Rabito won the FastCash jackpot of $10,000.00 in free money. He told the FreeLotto prize team that he plans to "hold on to the money" and add it to his savings.
Rabito joins hundreds of FreeLotto jackpot winners, including Richard Williams, another $10,000.00 FastCash winner who won only three weeks prior. Williams, a Certified Nursing Assistant and father of nine children, was a F.A.S.T. member at the time of his win. The optional FreeLotto F.A.S.T. service automatically enters a users lucky numbers in all six games every day and claims their prize winnings for them. These two wins bring the total awarded in FreeLotto's sweepstakes to over $95 million.
About FreeLotto.com®
Freelotto.com® is the largest online lottery-style sweepstakes website. Since 1999, FreeLotto® has awarded over $95 million in cash and prizes. FreeLotto.com is an advertising supported website that offers players the chance to win cash everyday with the following games: FreeLotto® $1 Million Cash Classic, $10K Fast Cash, $100K Pay Off Your Mortgage, $50K Win A Car, $100K Giveaway and $10 Million FreeLotto® Superbucks. To participate in FreeLotto®, players log onto http://www.FreeLotto.com, select their numbers on a gameboard and then click an advertising banner or answer a question to submit their bet for free. To learn more, visit: http://www.FreeLotto.com.
###