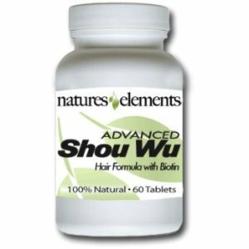 I've been on for about 3 months and my hair color has improved tremendously! As the time goes on there are less and less greys. I am thrilled.. what a great product!
Lindenhurst, NY (PRWEB) February 15, 2012
For years Natures Elements has provided customers with He Shou Wu with continual success. Advanced Shou Wu was introduced to customers so they can experience enhanced results with the new formulation. By consuming two easy to swallow tablets containing multiple hair nourishing vitamins, herbs and minerals people are experiencing more benefits than He Shou Wu alone.
Natures Elements currently offers the most powerful form of He Shou Wu as a 12:1 extract. The 1,000 mg of He Shou Wu (commonly referred to as Fo-Ti) is contained within the original He Shou Wu formula. The Advanced Shou Wu offers the same 1,000 mg plus 10 additional vitamins and herbs targeted to improve hair color and growth naturally.
Bioperine, black pepper extract, is one of the additional ingredients found in Advanced Shou Wu. This herb increases the absorption of He Shou Wu and all the ingredients contained in this new formula. By increasing the absorption, Bioperine lets each ingredient work to its maximum level. A list of all the ingredients and their benefits can be found at http://natureselements.net/ADVANCED-SHOU-WU.html
He Shou Wu has been known for its ability to nourish the liver and kidneys and provide a better blood flow to the scalp thereby stimulating healthy hair. Advanced Shou Wu can not only put an end to graying hair put also provide numerous other benefits, including lowering blood pressure and cholesterol, to name a few. This certainly makes Advanced Shou Wu a tonic worthy of taking for the rest of one's life.
This product addition has offered numerous customer enjoyment and happiness due to its results, "I've taken the Advanced Shou Wu now for three months and have noticed excellent results. Not only do I not have to color my hair any more, I've also noticed that a bald spot at the crown on my head is re-growing hair now. Great product and all natural, which my body likes. Thank you for your fantastic product," stated Natures Elements customer, Mike C.
Natures Elements, a high quality vitamin and herbal supplements retailer, is committed to providing real results through dedicated research and superior formulations.