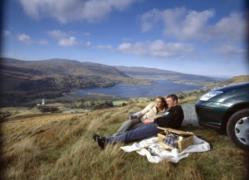 There is nothing more romantic or memorable than an Ireland vacation
Albany, NY (PRWEB) February 15, 2012
Romance reigns in idyllic Ireland. Imagine lush, green hillsides dappled with thatched cottages and castle ruins, the ultimate in luxury castle accommodations and the best craic in the world. Newlyweds can get their new life together started with romance, fun, adventure and the some of the most perfect landscapes in the world – what could be more perfect than a honeymoon in Ireland?
There is nothing more romantic or memorable than an Ireland vacation. Romantic couples may want to experience the myth and legends of the Giants Causeway, experience the mystical intrigue of Ireland's castles or take a jaunting car ride for two in Killarney. And what better way to start off your life together than to pay homage to St. Valentine at the Whitefriar Church in Dublin.
Ireland was recently named one of the world's best luxury travel destinations for 2012 by Luxury Travel Magazine, and it's pretty obvious why – the ultimate in luxury accommodations from castles to 5* properties, world-class golf courses and breathtaking scenery.
For the couple looking to hide away, Ireland has much to offer: from remote locations and spectacular natural wonders to spa-retreats and thatched cottages. Quaint towns such as Westport and Kinsale offer great hide-a-ways while being a perfect base to explore the romantic side of Ireland. The adventurous couple will find a plethora of water sports, equestrian activities, mountains to climb and remote vistas to dig into. We recommend Northern Ireland for those looking for unspoilt rugged beauty, water sports and more! Or the newly-wedded couple may wish to jump into the center of it all in Ireland's vibrant cities. Experience trendy Galway, the urban buzz of Belfast or cosmopolitan Dublin, a UNESCO world heritage city of literature, with so much going on in Ireland this year, newly-wedded couples will find themselves a part of the excitement.
Whatever your honeymoon style, Ireland has something for every couple and Celtic Tours World Vacations can help plan the perfect romantic escape. With over 40 years of experience and award-winning customer service, Celtic Tours World Vacations will treat your vacation as their own – but you get to have all the fun! Here are a couple of our favorite romantic vacations to Ireland:
Castles & Cottages
Idyllic Ireland awaits…Castles and Bed and Breakfasts are at the heart of every traveler to Ireland. Whether you are looking for a romantic escape or the true Irish experience, our Castles and Cottages Self-Drive Vacation is the perfect choice. Meander through the back roads of Ireland, while staying in luxury castle hotels and idyllic Bed and Breakfasts of your choice.
Land from $739 pps
Check it out: http://bit.ly/xu3zEo
Emerald Bliss
Find your Emerald Bliss on this 6 night spa get-a-way to Ireland.
The Hodson Bay Hotel in Athlone is the perfect base for 2 nights as you roam the heartland of Ireland. Stay in the luxurious Hodson Retreat Rooms, enjoy a romantic dinner for 2 and rejuvenate with your choice of spa treatment.
Then experience the heart of Ireland in a Bed and Breakfast of your choice for two nights. Put the finishing touch on your blissful Irish vacation with 2 nights at the Clontarf Castle just outside of Dublin.
Land From $879 pps
Check it out: http://bit.ly/A2nI17
Serenity by the Lakeside
A perfect 6 Night get-a-way,f eaturing 3 nights at the beautiful Lakeside Hotel in Killaloe, Co. Clare. Killaloe is made up of charming narrow streets, flanked by old shops along the steep hill looking down over the 13th century cathedral. This picture perfect town with its Victorian streets and old canal banks was once capital of all Ireland. The Lakeside Hotel makes a perfect base for exploring all that this area has to offer. This perfect get-a-way also includes 3 nights B&B accommodations, car rental, breakfast daily, 1 dinner, complimentary tour of the Ring of Kerry and more!
Land From $519 pps with coupon code LOVESERENITY
Check it out: http:// http://bit.ly/oNGMra
Endless Possibilities
Our Signature Self-Drive Vacation: With 2 Nights in Dublin, ample time to tour the city & 4 Nights open B&B vouchers allow you to choose where you want to go. Put the finishing touch on your Ireland Vacation with a castle stay!
Land From $659 pps
Check it out: http://bit.ly/p0ASnk
###