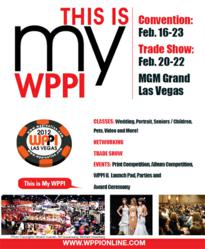 Greensboro, NC (PRWEB) February 13, 2012
As in past years, the WPPI 2010 Convention and Trade Show will be a reunion of photographers from around the world, headlined this year by a lineup of industry renowned Platform speakers. The WPPI trade show will feature hundreds of exhibitors and thousands of new products of which PhotoBiz will be introducing more than ever before.
Due to the enthusiastic response PhotoBiz.com will once again offer the "Door Buster Special" at the Las Vegas WPPI trade show. This offer is only available to the visitors of booth #1101 at the show. A complete website package consists of a Flash site, HTML mirror site and a Mobile mirror site. This offer happens in Vegas and ends in Vegas.
From the inception of the company PhotoBiz.com has been a industry leading developer of e-commerce solutions for photographers. The "Hot One" award winning PhotoBiz Store is the most innovative & customizable HTML5 compatible e-commerce solution for small to medium sized businesses. Sell virtually ANYTHING with a remarkably reliable and secure platform for photographers and their customers.
PhotoBiz will introduce at WPPI a brand new Blog Site product that is the most exciting & customizable HTML5 blog in the industry. It comes with easily customizable blog pages, as well as information, gallery and contact pages, so the Blog Site functions as a complete website solution. The blogger can organize their blog posts into categories, create mini blogs on their on site, target entries to specific clients, and link them to social media. This powerful website solution can be tailored to fit most business needs as well as integrate within a current website.
For PhotoBiz.com's customers that have Client Viewing, there is now a feature packed iPad app for mobile proofing. This is a great mobile way to show off their work in a "Flash" like application on an iPad. It is the perfect app for PhotoBiz clients to display their photography while on the go, be it at a speaking engagement, at shows (like WPPI) or at training seminars. Now with the new Droid version this has the potential to be one of our customer's favorite selling tools.
PhotoBiz will also have a booth at two pre-show events. WPPI U will be a 2-day workshop (February 17-18) with a full slate of classes for emerging photographers. Classes will cover all of the essentials they need to know for their new business from top professionals in the industry.
WPPI Launch Pad is a sneak peek at the latest and greatest products from WPPI's exhibitors before the trade show even opens (February 19, 2012). WPPI's Launch Pad will be open to all media and all WPPI attendees.
For more information about PhotoBiz.com, or to get started using the new products and features, visit us at http://www.PhotoBiz.com or on FaceBook at http://www.photobizfanclub.com.
###