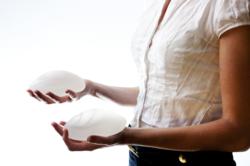 The majority of U.S. breast augmentation candidates are saying, 'I want my gummies!'
Park City, UT (PRWEB) February 15, 2012
A U.S. Food & Drug Administration implant safety update published in June of 2011 confirms the 2006 approval of Gummy Bear-style silicone breast implants for use in clinical trials only – with the condition that their safety and effectiveness be tracked for a 10-year period.
The FDA update notes that participating plastic surgeons must also compare the 40,000+ participating patients' outcomes to saline breast implant patients' outcomes. With an imposed 10-year time frame, those clinical trials may not end until 2016.
And, as ImplantInfo.com reports, the majority of U.S. breast augmentation candidates are saying, "I want my gummies!"
Gummy Bear breast implants – also known as cohesive gel, highly cohesive gel or form-stable gel silicone breast implants – are already approved for use in Europe and Canada. As mentioned above, the FDA has yet to approve their general use in the U.S.
In a recent ImplantInfo.com poll, 51% of nearly 800 respondents say they will wait for Gummy Bear approval before getting breast augmentation surgery. The results are posted online and are accompanied by an article which includes pros, cons and expert insights provided by Dr. Steven Teitelbaum, a clinical trial participating plastic surgeon.
Dr. Teitelbaum, who has been featured on NBC's Today Show, said breast augmentation consumers were mistakenly led to believe Gummy Bears were approved in 2006.
"Given (demand)," says Teitelbaum, "some manufacturers and some physicians (implied) they offered highly cohesive gel silicone breast implants. Of course, 'Gummy Bear' is not a medical term and there is no steadfast definition of what (that) means. However, the implants patients refer to when they say 'Gummy Bear' have not been approved."
Yet, he says, there are other silicone gel breast implants which are "far more cohesive, less likely to leak and less likely to spread than the more 'liquid' implants of the '70s and '80s – the type of silicone that gave breast implants a bad name."
"(Gummy Bears) are longer lasting and maintain a more attractive and predictable shape," he explained of the clinical-trial implants. "The gel they're made of is less liquid-like and more solid-like than even today's other cohesive silicone gel implants."
So, are they worth waiting for? Dr. Teitelbaum says consumers must decide for themselves.
"Hopefully, they are just around the corner – perhaps in the middle of 2012. But, many people have predicted imminent approval of gummy bear implants for years."
Consumers can read the full article, learn more about Gummy Bear breast implants and research breast augmentation surgery and breast implants online at ImplantInfo.com.
About ImplantInfo.com: A women's guide to breast augmentation and breast implants since 1999, ImplantInfo.com gives consumers FREE, 24/7 access to information related to implants, surgery and breast health. As a full-service online resource, we make it easy for them to conduct research, search our board-certified surgeon database and join live breast augmentation discussions with women who've had or are contemplating breast augmentation.
###