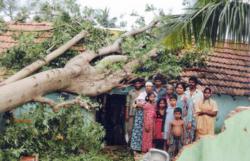 "Salesians and the people they serve in southeast India are resilient," says Fr. Hyde. "Together we can help these victims as well as those in need in countries around the globe."
New Rochelle, NY (PRWEB) February 13, 2012
Salesian Missions has created a fund to assist with relief and rebuilding efforts in the aftermath of Cyclone Thane, which devastated parts of Southeast India on Dec. 31, 2011. Salesians in affected areas worked to assist survivors, as they surveyed immense damage to their own properties.
Destruction to Salesian property in Puducherry, Cuddalore and the missions in Gedilam and Maranodi Vinnarasi resulted in shattered windows, sheared off roofs, destroyed water heaters, and ruined equipment in several vocational education centers. But despite their own losses, the Salesians stepped in during the immediate aftermath and provided shelter, meals, clean water, clothing and comfort to those affected by the devastation.
The immediate relief that survivors needed was vast, according to Father Johnson Antonysamy, director of the Salesian mission in Chennai. People were without food, water, electricity and shelter. Those with thatched roofs had their roofs blown off and more than 20,000 people were displaced. Salesians have continued relief efforts in local villages devastated by Cyclone Thane, but report they are in need of additional assistance.
Salesian Missions – the U.S. development arm of the international Salesians of Don Bosco headquartered in New Rochelle, NY – responded quickly by creating an India Cyclone Relief Fund.
"Because we are already part of the community and the local infrastructure, we are in a better position to help quickly when disaster strikes," says Father Mark Hyde, executive director of Salesian Missions.
"Our U.S. office responds to needs such as this by creating special disaster relief funds and calling on our generous donors who reach into their hearts and their wallets to help those most in need," he adds. "We are so very thankful to our supporters."
Cyclone Thane barreled through the districts of Cuddalore, Villupuram and Puducherry. In its wake, residents dealt with leveled homes and uprooted trees; flooded farmlands that destroyed precious crops; and the death of dozens of men, women and children.
"I don't know what we would have done without a place to sleep," says one villager whose thatched hut was carried away by the winds, and whose family is now staying at the mission in Chennai. "We would be out in the elements wondering how to survive. We are so grateful to the Salesians for their help."
The Salesians' work will go far beyond the immediate relief that was needed in the days following the cyclone. Entire communities must rebuild. In addition to restoring their social development and education programs in operation prior to the cyclone, the Salesians must now rebuild their own missions and lead community efforts for long-term recovery.
"Salesians and the people they serve in southeast India are resilient," says Fr. Hyde. "Together we can help these victims as well as those in need in countries around the globe."
To give to the relief efforts, go to SalesianMissions.org, click on "Donate Now" and select "India Cyclone Relief Fund."
ABOUT SALESIAN MISSIONS:
Salesian Missions is headquartered in New Rochelle, NY, and is part of the Don Bosco Network—a worldwide federation of Salesian NGOs. The mission of the U.S.-based nonprofit Catholic organization is to raise funds for international programs that serve youth and families in poor communities around the globe. The Salesian missionaries are made up of priests, brothers and sisters, as well as laypeople—all dedicated to caring for poor children throughout the world in more than 130 countries and helping young people become self-sufficient by learning a trade that will help them gain employment. To date, more than 3 million youth have received services funded by Salesian Missions. These services and programs are provided to children regardless of race or religion. For more information, go to http://www.SalesianMissions.org.
For more news like this, go to MissionNewswire.org.
# # #