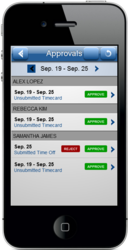 Las Vegas, NV (PRWEB) February 14, 2012
Vortex Connect, a pioneer in best-of-breed mobile business-to-employee (B2E) applications, has partnered with the Canadian Trade Commissioner for the upcoming annual Healthcare Information and Management Systems Society conference (HIMSS12) from February 20th to 24th, 2012 in Las Vegas. Vortex Connect is an exhibitor (booth 2262) and will also be part of the Canadian Mobile-Health Knowledge Center (booth 12928) on Tuesday, February 21st, from 1-3 pm.    
Vortex's proven mobile workforce management platform has been deployed to more than 50 hospital and home healthcare organizations across North America.  Vortex streamlines operational processes, reduces costs and enhances efficiencies by communicating patient information, staffing demands and critical data in real-time through multi-channel touch points.  
"Healthcare organizations have been able to realize operational efficiencies with the Vortex mobile middleware platform and our suite of products," says Dan Huber, SVP Sales at Vortex Connect.  "By leveraging mobility as a top-down approach, you have one app that speaks to several systems like Scheduling, HR, Time & Attendance, Payroll, ERP, Workforce Management, Care Systems, etc.  This provides caregivers the ability to arm their workforce with the necessary tools at their fingertips which results in higher quality patient care."  
Vortex Connect will be showcasing its suite of solutions including:

Mobile Shift Connect - a shift management tool that fully integrates with existing time and scheduling systems.  The application sends open shift assignments to eligible employees via multiple touch points including text messaging (SMS), email and interactive voice response, thereby minimizing the cost to find replacement staff on the fly.  
Mobile Employee Connect and Mobile Manager Connect – both are self-service mobile applications used for managing and executing HR and Payroll workflows via smartphones such as iPhone, BlackBerry, Android and Windows Mobile.  Employees and Managers can view schedules and swap shifts, enter time details in various formats, and complete the requisition and approval process for leave requests and timecard submissions.  
Mobile Operations Connect  - provides real-time, patient data to smartphones and tablet devices.  Caregivers have full visibility into their patient's history and records, and can complete assessments in real-time while eliminating the need for paperwork.  Keeping employees and patient safety at the top of mind, the app sends broadcasts on emergency situations, alerts and warnings, as well as detailed information on product and drug recalls.  The two-way communication platform enables better quality patient care and reduces lengthy billing cycles.
The HIMSS12 Exhibition will feature knowledge centers, education sessions and an interoperability showcase.  For more information contact neil.grunberg(at)vortexconnect(dot)com
About Vortex Connect Inc. 
Vortex Connect is a mobile workforce management (WFM) solutions provider specializing in business-to-employee (B2E) communications.  Vortex enables organizations to mobilize its people, its paper processes and organization.  Employees are empowered with the right information, at the right time, so that they can execute on their organization's vision effectively.   Mobile workforce management solutions will improve communications across the enterprise, team collaboration and streamlines processes.   Transform your business and find out more at http://www.vortexconnect.com.
For more information, press only:
Neil Grunberg
Vortex Connect 
416 203 7787 x 255
neil.grunberg(at)vortexconnect(dot)com 
About HIMSS
HIMSS is a cause-based, not-for-profit organization exclusively focused on providing global leadership for the optimal use of information technology (IT) and management systems for the betterment of healthcare. Founded 50 years ago, HIMSS and its related organizations are headquartered in Chicago with additional offices in the United States, Europe and Asia. HIMSS represents more than 38,000 individual members, of which more than two thirds work in healthcare provider, governmental and not-for-profit organizations. HIMSS also includes over 540 corporate members and more than 120 not-for-profit organizations that share our mission of transforming healthcare through the effective use of information technology and management systems. HIMSS frames and leads healthcare practices and public policy through its content expertise, professional development, research initiatives, and media vehicles designed to promote information and management systems' contributions to improving the quality, safety, access, and cost-effectiveness of patient care. To learn more about HIMSS and to find out how to join us and our members in advancing our cause, please visit our website at http://www.himss.org.
###