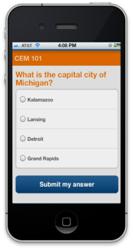 GoSoapBox has been an incredible tool to pinpoint comprehension gaps when my students are reading independently.
Chicago (PRWEB) February 14, 2012
GoSoapBox, a Chicago-based education technology startup, announced today the launch of its eLearning application designed as an assessment tool for classrooms from elementary school through the college level.
The company's Web-based mobile application, called GoSoapBox, is available on any device with an Internet connection. Among the application's features:

Discussions - Teachers can create discussion topics or short answer questions and have students reply with their answers or opinions. All interaction is anonymous, encouraging student participation.
Socially Ranked Q&A - Students submit, reply to and vote for questions they would like to be addressed. The questions with the most votes rise to the top of the page, informing the teacher of the most pressing issues.
Confusion Barometer – As the instructor goes over material, students can toggle an option to indicate that they do or do not understand. The instructor sees a real-time graphical representation of this data, so if there's a spike at a certain point, she can go back over that material.
Polls/Quizzes – Teachers can poll their students with a multiple-choice question and view the results graphically. They can also create quizzes as a series of multiple-choice or open-ended questions. All data can be exported into a spreadsheet for the teacher to use as a formative assessment.
Other features include a profanity filter and around-the-clock access, so students can use GoSoapBox as a study aid even at home and teachers can assess what took place while in the classroom.
What differentiates GoSoapBox from other technologies is its customized level of engagement combined with ease of adoption.
"Everyone can remember a time when they avoided asking a question in class because they didn't want to stand out or look as if they didn't understand," said John Pytel, GoSoapBox cofounder and CEO. "GoSoapBox allows teachers to hear what their students are thinking, giving them insights into student comprehension that were never before possible. Plus they can customize the program to best fit their style of teaching."
More than 1,300 educators signed up for the beta version to implement GoSoapBox in their classroom.
"What makes GoSoapBox so valuable is the fact that I get instant feedback on what students are grasping in my English class," said Christin Opreska, a teacher at Northern Lebanon High School in Fredericksburg, Penn. "GoSoapBox has been an incredible tool to pinpoint comprehension gaps when my students are reading independently."
Teachers can sign up for the program through the GoSoapBox website for a free 15-day trial. Subscriptions cost $15 per month or $90 for the year.
About GoSoapBox
GoSoapBox is an education technology company located in Chicago. With a mission to create a controlled digital space that makes an immediate impact in the classroom, the GoSoapBox Web-based application breaks down student barriers to participation. The product implements polls and quizzes, question-and-answer sessions, discussions, and a confusion barometer, all backed up with easy-to-export metrics. GoSoapBox is the winner of the 2011 Chicago Lean Startup Challenge and a 2011 EduBlog Awards nominee for "Best Mobile App in Education." For more information, visit http://www.gosoapbox.com.
###