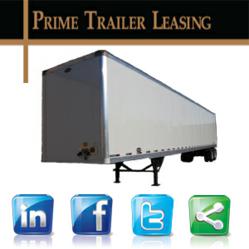 Denver, CO (PRWEB) February 22, 2012
Prime Trailer Leasing has recognized a key opportunity to grow their services in the dry van sales market in the past 2 years. With the economy working its way out of the 2007-2010 struggle, the demand for used dry vans and other equipment has grown significantly. This increase in demand has not been met on the supply side and manufacturers are struggling to keep up. In fact, orders for new dry van sales are well out into February 2013, a year beyond today's date.
These factors have created an opportunity that Prime Trailer Leasing has capitalized upon. Combining their already thriving dry van rental market, they have expanded their customer base, forged new strategic partnerships, and successfully provided 28 to 53 ft. dry vans to customers on a national basis.
The company focuses their marketing efforts around the slogan "Relationships Matter" and it shows. Prime Trailer Leasing has shown superior value to their customers by developing a true and lasting relationship with everyone they interact with on a business and personal level. The trailer leasing business has always been based on relationships, and Prime Trailer Leasing is a great example to model after.
If you want to learn more about Prime Trailer Leasing's dry van sale inventory, you can visit their website. They just recently acquired a great group of 53x102 2004 dry van trailers for sale that are worth checking out.
###