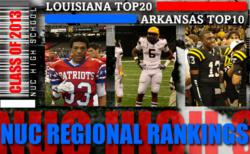 "With so many impressive players coming out of Louisiana and Arkansas there will sure to be some good things in these young athletes futures"
Mahwah, NJ (PRWEB) February 13, 2012
The list is out and National Underclassmen Combines are proud to announce that for the first time ever Louisiana State Top 20 and Arkansas Top 10 lists. Louisiana is home to 20 top athletes 5 of which are in the NUC Ultimate 100 and 6 in the Southeast Top 60. After ranking the athletes based on skills throughout the NUC Showcase the top 20 for Louisiana and top 10 for Arkansas are added to a list, which makes up the countries best of the best. Ranking are decided by National Underclassmen Combines founder and veteran coach Dave Schuman and National Recruiting Analyst Barry Every.
Standish Dobard, a tight end from Karr, Louisiana led his team to the LHSAA 4A Finals and DeSean Smith another tight end from Barbe, Louisiana was named First Team 5A All-State. National Underclassmen Combines was proud to have both these athletes names represented on their top 20 list. In Arkansas Tight end Hunter Henry from Pulaski Academy, Arkansas caught 62 passes for 1,091 yards and 16 scores. Sophomore, Altee Tenpenny from North Little Rock, AK ran an impressive 1,121 yards and accomplished 15 scores. For the complete list of the Louisiana Top 20 and Arkansas Top 10 visit http://www.nationalunderclassmen.com
"With so many impressive players coming out of Louisiana and Arkansas there will sure to be some good things in these young athletes futures. NUC works hand in hand with the top schools college recruiters and lets them know who the best are all across the country, so to make a Top list for their state is impressive and will be known and seen by all".
About National Underclassmen Combines
The National Underclassmen Combines showcase for football was founded in 2005 by veteran coach, Dave Schuman. National Underclassmen Combines is the longest running underclassmen event, and respected combine and football camp in the country. Since 2005 more than 50,000 athletes have come through NUC events and more than 3,000 athletes have received Division-1 scholarships, 1aa and DII scholarships offers after attending one of our camps. There are over 1,000 Division-I athletes coming through the National underclassmen Combines door. By bringing the best football coaches and athletes in the country to run the showcases, combines camps are becoming the way for future college athletes to gain the recognition they deserve. Schuman Speed has been providing high school football players with the skills and determination they need to be recruited by the best of the best in college football.
This year the company expanded its program to more than 60 cities and more than 180 events through out the United States. For high school athletes who play for small town schools or elite athletes looking to be noticed by the people on the top, Schuman's makes it possible and exposes their talented to the appropriate college recruiters. Dave Schuman ranks athletes along with Barry Every. The rankings are based on skills and talents throughout the events. It is the job of the National Underclassmen Combines to get that information out to college football recruiting teams nationwide. Visit http://www.nationalunderclassmen.com to find out more information.
Press Contact:
David Schuman
201-912-2212
dschuman(at)schumanspeed(dot)com
###