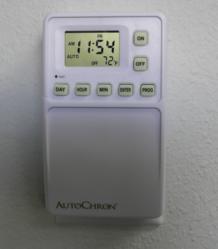 AutoChron turns any toggle wall switch into a wireless programmable wall switch at a cost of less than $30. The product installs easily without any wiring.
Tustin, CA (PRWEB) February 27, 2012
SWE, Inc. has introduced a new version of its popular AutoChron wireless programmable wall switch timer. The new AutoChron model offers a larger 20% larger LED display that also shows room temperature. In addition, AutoChron now has buttons that illuminate in the dark, making it easier to find the unit.
"AutoChron is a great lighting accessory that turns any toggle wall switch into a wireless wall switch timer," said Leon Rosen, president of SWE, Inc. "In less than 2 minutes using just a screwdriver - and for a cost of less than thirty dollars - a consumer can have a 7-day programmable wall switch timer that automatically turns on and off any light, fan or device controlled by that simple toggle wall switch."
AutoChron delivers both home security and energy savings to consumers. Because AutoChron lets you set overhead indoor lights and outdoor lights to go on automatically at different times each day, or even different times during a day, it is ideal for making a house look occupied even if residents are away.
"Burglars and intruders can not sense a house is unoccupied if lights go on and off in different rooms and random times each day," Rosen said. "AutoChron lets you easily turn lights on and off automatically multiple times each day creating better security. What's more, because Autochron works with porch lights, outdoor lights and even landscape lighting consumers who buy AutoChron never have to worry about coming home to a dark house again."
In addition to its home security benefits, AutoChron also helps consumers save on energy costs. In addition to managing when lights go on and off, homeowners can use Autochron to automatically turn on and off ceiling fans allowing them to keep their houses and apartments cooler and therefore use less air conditioning during the hot months.
"Savings on air conditioning costs in hot climates easily can be in the hundreds of dollars each month," Rosen added. "You can program AutoChron to have ceiling fans turn on during the middle of the afternoon instead of having to leave fans running all day when no one is home, which keeps the house cool so that the air conditioning doesn't go on as often."
AutoChron works on any toggle wall switch, including multi switch plates. The product is available at http://www.shopwithease.com, as well as through leading retailers and catalogs including HSN, Home Depot, Improvements and CostCo.
ABOUT SWE, INC.
SWE, Inc. creates and distributes specialty home electronic, fashion and pet products. Pet Products are offered under the company's Love2Pet brand.
# # #