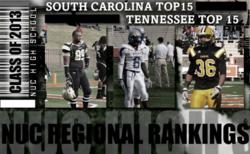 Mahwah, NJ (PRWEB) February 13, 2012
National Underclassmen Combines released their Top 15 list for the South Carolina showcase. NUC is the largest high school and college football camp and combine in the United States. The Tennessee Top 15 rankings are only the beginning. Three of Tennessee's prospects have been ranked in the NUC Southeast Top 60. Players are ranked based on the skills and performance displayed at the National Underclassmen Combines showcase. A lot of talented athletes were seen in South Carolina and Tennessee and the best can be seen here.
In South Carolina, Wide receiver Mike Williams of Lake Marion caught 61 passes for 1,141 yards and 10 touchdowns throughout the season. D.J. Park fro Dillon, SC is an offensive lineman who guided his team to a 12-1 record by paving the way with 44.8 points per game. Tennessee had equal talent with ATH Corn Elder of Ensworth, Tennessee. Elder is Mr. Football 2011. Mark Dodson Jr. is a running back from Whitehaven Tennessee and earned First Team 6A All-State. For the complete list of NUC Top players 2013 visit http://www.nationalunderclassmen.com
" The talent coming from both South Carolina and Tennessee is crazy and NUC was so proud to put these athletes on our list. It is important that the players not loose focus of what is at stake here and keep pushing to play for colleges all over the country, while they are working hard we are too so that can reach their dreams and goals"
About National Underclassmen Combines
The National Underclassmen Combines showcase for football was founded in 2005 by veteran coach, Dave Schuman. National Underclassmen Combines is the longest running underclassmen event, and respected combine and football camp in the country. Since 2005 more than 50,000 athletes have come through NUC events and more than 3,000 athletes have received Division-1 scholarships, 1aa and DII scholarships offers after attending one of our camps. There are over 1,000 Division-I athletes coming through the National underclassmen Combines door. By bringing the best football coaches and athletes in the country to run the showcases, combines camps are becoming the way for future college athletes to gain the recognition they deserve. Schuman Speed has been providing high school football players with the skills and determination they need to be recruited by the best of the best in college football.
This year the company expanded its program to more than 60 cities and more than 180 events through out the United States. For high school athletes who play for small town schools or elite athletes looking to be noticed by the people on the top, Schumans makes it possible and exposes their talented to the appropriate college recruiters. Dave Schuman ranks athletes along with Barry Every. The rankings are based on skills and talents throughout the events. It is the job of the National Underclassmen Combines to get that information out to college football recruiting teams nationwide. Visit http://www.nationalunderclassmen.com to find out more information.
Press Contact:
David Schuman
201-912-2212
dschuman(at)schumanspeed(dot)com
###