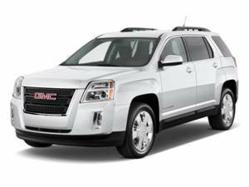 "The Terrain has 13 new features," says Liberty Buick GMC Trucks.
(PRWEB) February 15, 2012
In January GM announced it regained the title of number one automaker worldwide. Explanations for the news range from improved vehicle design and economy to new features that run the range from safety features to luxury interior comforts. The team at Scott McCorkle's Liberty Buick GMC Trucks believes the GMC Terrain is a perfect example of the way GM is leading the way.
Greg Mongelli of Liberty Buick GMC Trucks says, "The Terrain has 13 new features!"
The Terrain's features are so state-of-the-art that drivers are giving it rave reviews across the board. The Terrain provides a super sophisticated ride with a quiet and attractive cabin. The crash test scores on the Terrain are outstanding. There are plenty of the standard features, tons of options, good fuel economy and the ultimate roomy backseat. Edmunds gives the Terrain top scores and quotes reviewers who say, "I love everything about this car!" They go on to add that the Terrain has, "Great design, interior and exterior, comfortable and great handling.
The Terrain offers best-in-class second row leg room, adjustable second row with 8" travel fore and aft. Not to mention that Terrain comes with standard rearview camera system and available audio system with navigation and rear entertainment. The Terrain also has available remote vehicle start and available programmable power liftgate. Of course, the Terrain also has Stabiltrack with Traction Control.
GM has consistently proven it's commitment to regaining position as number one in the U.S. and abroad in auto manufacturing, sales and service. The Terrain perfectly demonstrates that commitment. With vehicles like the Terrain, GM keeps raising the bar for all automobile manufacturers.
GM also introduced the new Buick 2012 Verano which reviles other similar vehicles and keeps to the same high standards as the Terrain and other GM products.
Scott McCorkle says, "We continue to be proud to sell GMC." McCorkle, who's dealership has a great reputation for sales and continued service says, "We give our customers red carpet treatment and we sell great products. The Terrain is just another great product from GM."
If you're in the market for a great vehicle or just need great service, call Scott McCorkle's Liberty Buick GMC Trucks today at 866-442-0871 or visit the website at http://www.clickliberty.com.
###