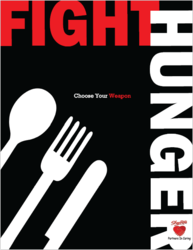 "Ognen's inspiring design... speaks so poignantly to the heart of ShopRite Partners In Caring's mission to help the hungry in our communities."
Keasbey, NJ (PRWEB) February 14, 2012
ShopRite Partners In Caring, in collaboration with General Mills, today announced the grand prize winner of the "Knock Out Hunger" T-Shirt Design Contest at an unveiling event at New York City's Time Warner Center. To support its year-round, hunger-fighting initiative, ShopRite challenged up-and-coming artists to raise hunger awareness by expressing what the issue means to them through original t-shirt designs.
At the unveiling, Celebrity Judges Jeannie Mai, host of Style Network's "How Do I Look?" and Korto Momolu, from BRAVO's "Project Runway" revealed the top 15 t-shirt submissions, along with the grand prize-winning design submitted by Paramus, NJ resident Ognen Trpeski. Mr. Trpeski's winning t-shirt design (see attached) will be featured on a special-edition Cheerios box, to be sold exclusively at ShopRite stores this fall, and will also appear on the runway in Korto Momolu's fashion show during New York Fashion Week 2012.
ShopRite will also recognize the second and third place design winners on the custom Cheerios box -- Charles Estergren of Egg Harbor Township, NJ and Michele Guerriero of Surf City, NJ, respectively.
The objective of the contest was to find individuals who are concerned about the plight of the hungry and who could artistically express their message by creating a t-shirt design featuring the ShopRite Partners In Caring logo.
"We are so excited to unveil Ognen's inspiring design, which speaks so poignantly to the heart of ShopRite Partners In Caring's mission to help the hungry in our communities," said Christine Magyarits, spokesperson for ShopRite Partners In Caring. "We're grateful for the creative and generous spirit of all of those who submitted their one-of-a-kind designs in this contest, helping us to raise awareness of this very serious issue. They are truly partners in caring."
About ShopRite Partners In Caring
ShopRite Partners In Caring is a year-round, community-based, hunger-fighting initiative that works with more than 50 food industry manufacturers to provide more than $2 million annually to qualified charitable agencies in New York, New Jersey, Connecticut, Delaware, Maryland and Pennsylvania. Since its inception in 1999, ShopRite Partners In Caring has donated $27 million to more than
1,700 charities. ShopRite Partners In Caring supports emergency food pantries, soup kitchens, homeless shelters, child care centers, battered women's shelters, senior citizen programs, drug rehab centers, programs for the mentally and physically disabled, after-school programs and other organizations that aid those in need. The ShopRite Partners In Caring Fund was established in 2002 as a component fund of the Community Foundation of New Jersey to accept private donations that help fund its charitable endeavors. For more information or to learn how you can help, please visit http://www.shopritepartnersincaring.org.
# # #