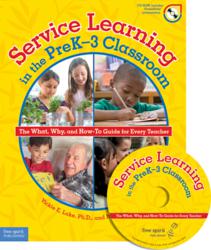 "Belongs on the shelf of every preK-3 teacher interested in bringing learning to life through service."

Joe Follman, founding director, Florida Learn & Serve
Minneapolis, MN (PRWEB) February 15, 2012
Free Spirit Publishing brings service learning to the primary curriculum with Service Learning in the PreK–3 Classroom: The What, Why, and How-To Guide for Every Teacher (Free Spirit Publishing, $39.99), written by early childhood education experts Vickie E. Lake, Ph.D., and Ithel Jones, Ed.D. What is service learning? Service learning is an instructional approach that combines thoughtfully organized community service with experiential student learning in a way that changes and improves both the student and the community. It can be a powerful tool in reaching, teaching, and inspiring young children, and this book presents the background knowledge and skills needed to effectively use service learning in preK and primary classrooms.
Service Learning in the PreK–3 Classroom is based on field trials the authors conducted with over 2,000 students and 215 educators, during a three year grant funding Drs. Lake and Jones to infuse service learning into their early childhood teacher education program at Florida State University. During this time, Lake and Jones realized the need for a resource written to help teachers of preK–grade 3, administrators, and early childhood professionals increase their understanding of service learning and its role in the early childhood classroom.
"The idea that a kindergartner can be actively involved in service learning projects—and understand the impact of their actions on others—is one that often surprises people," says Jones. "But the fact is, young children can make a big difference in their communities."
Rich in both theory and practice, the book reflects the tenets of the National Association for the Education of Young Children's (NAEYC) developmentally appropriate practices (DAP), combining community service with differentiated curriculum-based learning to meet the academic and social needs of young children in meaningful ways. The sample lesson plans in the book are based on tried and tested classroom projects and correlated to national service learning, Head Start, and core content standards. An accompanying CD-ROM offers customizable versions of the book's dozens of forms and templates for lesson planning, assessment, and more. It also includes a PowerPoint presentation for use in preservice and professional development.
Service Learning in the PreK–3 Classroom provides service learning opportunities that support high academic standards and, at the same time, foster children's social development by teaching them to be good citizens.
About the authors
Vickie E. Lake, Ph.D., is an assistant professor of early childhood education the Jeannine Rainbolt College of Education at The University of Oklahoma. She holds a master's degree in education from Vanderbilt University and a Ph.D. in philosophy from The University of Texas at Austin. She has written for the Journal of Early Childhood Teacher Education and Childhood Education, among other publications, and presents at professional conferences. A former teacher, staff developer, and early childhood district coordinator, Vickie has a passion for character education and high-quality education for young children. She lives in Tulsa, Oklahoma.
Ithel Jones, Ed.D., is an associate professor of early childhood education at Florida State University. He earned his M.S. from the University of Wisconsin at Stout and his doctor of education at the University of Georgia. Ithel was a teacher and primary school principal in his native Wales, and he has been a teacher educator at three universities in the United States. He currently teaches graduate and undergraduate courses in early childhood education and has published more than 30 articles and book chapters. He lives in Tallahassee, Florida.
About Free Spirit
Headquartered in Minneapolis, Minnesota, Free Spirit is the leading publisher of learning tools that support young people's social-emotional health and their educational needs. Free Spirit's mission is to help children and teens think for themselves, succeed in life, and make a difference in the world. For more information, visit http://www.freespirit.com.
$39.99 / Softcover / 224 pp. / 8½" x 11" / For teachers of PreK–grade 3, administrators, and early childhood professionals
Service Learning in the PreK–3 Classroom (Book with CD-ROM):
The What, Why, and How-To Guide for Every Teacher
ISBN 978-1-57542-367-8
Advance praise for Service Learning in the PreK-3 Classroom:
"A wonderfully useful guide [that] belongs on the shelf of every preK–3 teacher interested in bringing learning to life through service."—Joe Follman, founding director, Florida Learn & Serve
"Wonderfully comprehensive . . . incredibly practical . . . rich and innovative . . . includes everything teachers will need to implement projects."
—Judy Jablon, educational consultant and author of Powerful Interactions: How to Connect with Children to Extend Their Learning (NAEYC)
"A great resource for educators to embrace their critical role in shaping the mindset of young students."—Clifton L. Taulbert, K–12 education consultant and author of Eight Habits of the Heart for Educators
"Comprehensive . . . remarkably clear . . . a required resource for anyone who wants to link experiential learning with the development of social responsibility."—Elizabeth A. Ethridge, Ed.D., associate professor of early childhood education, University of Oklahoma
"A helpful guide for educators who want to ensure that our youngest participants have opportunities to contribute to society."—Cathryn Berger Kaye, M.A., author of The Complete Guide to Service Learning
###