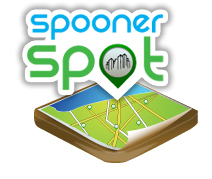 Las Vegas, NV (PRWEB) February 14, 2012
CitySpoon , Inc, is preparing for the soft launch of its newest endeavor, SpoonerSpot.com. This new venture enters the competitive Social Networking world, bringing a new way to share information along with it. SpoonerSpot gives Spooners (SpoonerSpot users) the freedom to share information about their world, and offers a fun and interactive platform for the entire SpoonerSpot community to engage and discuss various ideas. Businesses can also use SpoonerSpot as a new way to promote their brands by engaging with Spooners through the site's various networking opportunities.
SpoonerSpot allows users to share information about their world through the site's public social networking applications. SpoonerSpot uses an immersive global layout to showcase information, allowing Spooners to "Spot" locations all over the world. Attached to these locations are pictures, stories and other forms of media that relate to the Spooner's experiences at that location. Other Spooners can then choose which SpoonerSpot members to follow, essentially populating their SpoonerSpot maps with information that is relevant and interesting to them. This customizable feature allows each Spooner to keep up with information about the worlds that they are most interested in and share information with those Spooners who are curious about their world.
Spooners can also engage in discussions about various Spots by commenting and sharing information. Whether it be a conversation about that Spot in particular, the experiences at that Spot or even a debate about who has the best Spot, the level of interaction on SpoonerSpot.com is a significant part of its appeal. Spooners can also attach their own Spots to comments, allowing other Spooners engaged in the conversation to see even more special places around the world, and affording those who post additional Spots within comments to gain additional followers through this social networking tool.
Many businesses have been attracted by the allure of SpoonerSpot, even before the launch of the beta. SpoonerSpot offers a variety of advertising opportunities to interested businesses, including traditional and nontraditional methods. Banner advertisements and website boarders are available for businesses to promote their brand, while SpoonerSpot also affords businesses the opportunity to engage with Spooners within SpoonerSpot itself. Businesses, like traditional Spooners, can register for their own free SpoonerSpot account and can promote their business by Spotting relevant Spots on the map. Included in these Spots are special promotional items, sites of upcoming events and other fun things; the openness of SpoonerSpot allows businesses and Spooners alike to be creative in their Spots and the information they post to those Spots, giving marketers a new and imaginative way to reach their audience.
Within the next two weeks SpoonerSpot will have an open Beta platform and encourages interested parties to stay tuned to CitySpoon, Inc's social media sites (Facebook and Twitter) as well as CitySpoon.com for information on how to access this Beta. The Beta will only have open access for a limited time, and after that will reduce to an invite-only platform until the official launch. Be a part of this incredible new Social Networking platform by keeping in touch with CitySpoon, and be prepared; SpoonerSpot will put you on the map!
About CitySpoon:
CitySpoon, launched Summer 2011, serves as a local guide for living bigger, better, and smarter by providing in-the-know recommendations, candid user reviews and expert advice for businesses and events in CitySpoon communities.
CitySpoon.com was created as a multi-platform resource for people to save money and help businesses grow. The site offers discounts on national products consumers already know and love while providing local businesses with an affordable avenue to market their current promotions.
CitySpoon members are enthusiastic about life and the driving force behind the company.
Together with a private network of local and national businesses, CitySpoon offers fun, affordable experiences. CitySpoon keeps "Spooners" connected to the most popular and unique places and products.
For more information please visit http://cityspoon.com.
Follow CitySpoon on Twitter: @CitySpoon
"Like" CitySpoon on Facebook: facebook.com/cityspoon
Follow SpoonerSpot on Twitter: @SpoonerSpot
"Like" SpoonerSpot on Facebook: facebook.com/SpoonerSpot
###