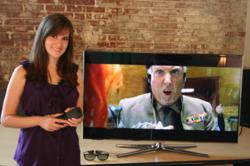 "Control" may be a strong word to use for the feature, but you can certainly turn the TV on just by saying, "Hi TV."
Atlanta, GA (PRWEB) February 22, 2012
LCDTVBUYINGGUIDE.COM and PLASMATVBUYINGGUIDE.COM Editors have written detailed features reviews, specifications and availability updates on the new Samsung LED TV 2012 models, which the company states feature a rich assortment of sizes and price ranges. Editors note that the premium E8000 model will come in a mammoth 75" model in the Samsung UN75ES8000 Review for which reviewers write, "Perhaps the greatest and most unbelievable feature on this TV is the facial recognition and voice and hand control in the ES8000. "Control" may be a strong word to use for the feature, but you can certainly turn the TV on just by saying, "Hi TV."
Among some of the other noteworthy Samsung LED TV Reviews 2012 editors note in the Samsung UN60ES6500 Review is that it is a mid range 60" LED Television having Samsung's best Internet TV offerings, which are described as follows: "Samsung's Smart Hub returns again this year, the interface is user friendly and the remote has buttons on it for quick access to some of the more popular features. Streaming video is available from major providers like Netflix, Amazon Video-On-Demand, Hulu, VuDu and more. There is also access to the Samsung App store which will be instantly familiar to smartphone users who use a marketplace to search and download apps on their phone."
According to the reviewers, it's not all about high end models, though. Wiley states that Samsung has plenty of value models slated for 2012 such as the Samsung UN55ES6100 Review for which they comment, "The 2012 UN55ES6100 series LED back-lit LCD televisions replace the UN55D6000 series from 2011, this line of mid-tier LED edge lit LCD televisions does not include 3D capability, but it does include the Samsung Smart TV online features. The 6-series Samsung LEDs offer strong picture picture quality and some top tier pictures in a lower price bracket and at a possibly exceptional value depending on the size."
Editors note that Samsung has released only two series of smaller LED TVs thus far for 2012. They maintain that one model series is the ES4000 for which they comment, 'The ES4000 series are line of small, value priced LED edge lit LCD televisions. With thin depths, sizes ranging from 32 inch to 19 inch and a PC input these models would not only make a good bedroom television, they also can double as a PC monitor."
Consumer Electronics Advisory Group Inc. operates several premier buying guide websites, including plasmatvbuyingguide.com, and lcdtvbuyingguide.com, among others. Online since 1999, the company provides objective and thoroughly researched information through professional reviews performed by seasoned reviewers. Editors Robert Wiley and Jack Burden have been reviewing televisions since the first commercial plasma TVs hit the market in year 2000. ISF calibrator John Wirtz has been calibrating televisions professionally for 10 years. The company adheres to strict testing guidelines using the highest caliber equipment. Company web sites have more than 15 million unique visitors each year in the fast growth consumer electronics industry.
###