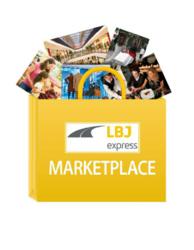 Dallas, Texas (PRWEB) February 13, 2012
Marking the one year anniversary since it began the transformation of one of the state's most congested roadways, the LBJ Express has unveiled a new business and consumer loyalty program called the LBJ Express Marketplace.
"Given the magnitude of this infrastructure project, one of the highest priorities for the LBJ Express is good communication with drivers, neighbors and businesses along the roadway," said Andy Rittler, Director of Corporate Affairs for LBJ Infrastructure Group. "They need to know what is happening to help keep traffic moving."
Heather Newsom, Public Relations Manager for Trinity Infrastructure – the design-build contractor for the construction of the LBJ Express – said the project is on schedule and significant progress has been made on many fronts including: 1) resolving more than 350 utility conflicts and working with two municipalities to begin the relocation of half a million linear feet of utilities; 2) demolition work on several major cross bridges; 3) the removal of HOV lanes on I-635; and 4) groundwork for new continuous frontage roads along I-635. Once utility relocations are completed in 2012, Newsom said construction of the frontage roads will begin.
"Even during construction, which occurs almost exclusively on nights and weekends, the public can always access the thriving business community along the LBJ Express project," noted Rittler. "Communicating that fact is one of the objectives of the new LBJ Express Marketplace initiative."
The LBJ Express Marketplace is a loyalty initiative to support businesses along the project area, through an online directory of participating businesses and the distribution of loyalty keytags for consumers in the area. A variety of businesses – from retailers and restaurants to professional service providers such as accountants and dentists – have signed up to promote their companies and to let consumers know about special offers and discounts available to Marketplace customers. Consumers may register to access a full listing of all participating businesses and available discounts. Underwritten by the LBJ Express, the Marketplace program is absolutely free to both businesses and consumers.
In preparation for the roll out, the LBJ Express team walked door to door in January and met with more than 500 businesses along I-35E and I-635. Some 160 businesses have already signed up and more than 200 others have expressed interest in participating, pending approval from their corporate headquarters.
"We've seen a lot of enthusiasm from the businesses and others in the community who recognize that the Marketplace program is part of the longer-term growth and economic development taking place in this area," said Rittler.
Others echoed that sentiment, including North Dallas Chamber of Commerce Interim President Bruce Bradford. Leaders of the Galleria Dallas, Lincoln Centre and Westin Galleria Hotel said that work on the LBJ Express project over the past year has not hampered their businesses.
In fact, both Galleria Dallas and the Westin Galleria said they experienced an enormously successful 2011, far exceeding their expectations and surpassing state and national trends.
Other LBJ Express Marketplace businesses attending the event also expressed support, including Elizabeth Villafranca, owner of Cuquita's and Four Corners Café at LBJ and Josey Lane, and Brad Schweig of Sunnyland Furniture near the "High Five" interchange.
The Marketplace program will run throughout construction on the 17-mile LBJ Express, which will be completed in late 2015. Sign up and learn about the LBJ Express Marketplace at http://www.lbjexpressmarketplace.com.
# # #