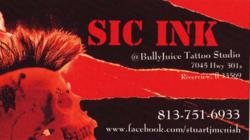 Riverview, FL (PRWEB) February 13, 2012
Tattoo Artist Stuart McNish has moved his Sic Ink tattoo artistry to the BullyJuice Tattoo Studio in Riverview Florida.
McNish, a native of Tampa Florida, has created custom and freehand work for hundreds of clients. Before he began inking skin, McNish created art in more conventional mediums, including oil paintings, charcoal, and pencil drawings. His tattoo designs include a variety of images that reflect fantasy scenes and scenes from real life.
McNish creates tattoos both in black and white and in vivid colors of virtually any design inspiration: botanicals including roses and sunflowers; personal designs including scenes to commemorate the birth of a child, marriage, or military service; iconic images including skulls, religious symbols, star formations, flags, military symbols, school mascots and, of course, hearts. McNish can custom create tattoos from customer descriptions or drawings, or from an existing design.
McNish is an accomplished artist with a full range of talents, specializing in custom tattoo designs that run the gamut from whimsical and delicate to bold, dark, sexy and sentimental. His work incorporates bold and subtle ink colors to create striking artistic elements on human canvasses.
McNish's Sic Ink studio is sponsored by BullyJuice Custom Ink. The BullyJuice Tattoo Studio prides itself on being among the cleanest, most reasonable, open Minded tattoo shops in the Tampa area. McNish is currently featuring tattoos at $12 an inch for black and $15 an inch for full color; $100 sleeve sessions on Wednesdays and Thursdays, with BullyJuice Tattoo ink & supplies.
Hours of operation are Tuesday through Thursday 12 noon to 9 p.m., Friday and Saturday 12 noon to 10 p.m. and Monday by appointment.
For more information, and to see images of his work, visit McNish's Facebook page at http://www.facebook.com/stuartjmcnish, or call 813.751-6933.
Press Release
Contact: Stuart McNish
Sic Ink
813.751.6933
Press release writing and distribution services: Liz Ernst, WritesStuff PR Services
Contact: Lizerns(at)writeSStuff(dot)com
Visit http://www.writesstuff.com
# # #