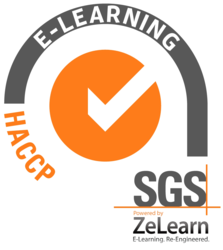 Our goal is to deliver best in class certified digital training to our clients.
Montreal, QC (PRWEB) February 14, 2012
SGS today announced a new technology partnership with ZeGenie, a pioneer in interactive learning technology to develop compliance training for the agriculture and food industries.
Under the terms of the agreement, ZeGenie will develop HACCP and food safety training content using its proprietary technology in conjunction with leading industry knowledge experts from SGS, and top-tier educational institutions. This relationship represents a shared vision for the next-generation of technology-based training, with lasting impact on both individual learner and the industry as a whole. The state-of-the-art training will utilize game mechanics, advanced multimedia, and mobile deployment to deliver rich and engaging learning experiences.
SGS is the world's leading verification, inspection, certification and testing company. Recognized as the global benchmark for quality and integrity, SGS employs 70,000 people worldwide and operate a network of more than 1,350 offices and laboratories around the world. SGS Systems and Services Certification division covers auditing, certification and training services for management systems in quality, food safety, environment, health & safety, social accountability, security and business continuity in order to ensure that international, local or client standards are met.
ZeGenie is a pioneering interactive eLearning technology company based in Montreal Canada. Its pioneering product and business model, ZeLearn, allows for high-fidelity educationally-supported content extraction and deployment for the enterprise market. ZeGenie actively works with partners in the education, pharmaceutical, agriculture & food, health and safety, aerospace, and manufacturing industries. The developed interactive, immersive content is localized in multiple languages to provide standardized training around the globe.
"Our goal is to deliver best in class certified digital training to our clients," said Anthony Perkins, Sr. Vice President of SGS, "By bringing training to our clients using ZeGenie's unique technology we are getting as close as possible to delivering a classroom learning experience in the virtual realm."
"We are very excited to partner with a leader in the certification and training space such as SGS," says Ramez Rafla president of ZeGenie Inc., "The combination of ZeGenie's leading-edge content deployment technology and SGS' hands-on industry knowledge brings an effective combination to ensure proper training and compliance."
The first course, HACCP will be available for registration by April 2012. Please visit and subscribe at http://www.zelearn.com/haccp
Stephen Sockett
ZeLearn
stephen.sockett(at)zelearn(dot)com
855.934.3643 - extension 102
# # #