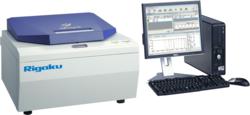 Austin, Texas (PRWEB) February 14, 2012
Applied Rigaku Technologies, Inc. has published a new application report demonstrating an energy dispersive X-ray fluorescence (EDXRF) method for the determination of atomic elements and oxides in the processing steps associated with nickel refining. Analysis of nickel concentrate, filter cake, furnace matte and furnace slag is demonstrated in Application Note #1103.
In the processing of nickel, lateritic ores or sulfidic ores are typically first crushed and milled to a fine powder. Water is added to create a pumpable slurry, which is treated with reagents during the flotation process in order to concentrate the nickel. Slag from the subsequent smelting process is further processed to recover base and platinum group metals. Analytes included: MgO, Al2O3, SiO2, S, CaO, Cr2O3, Fe, Co, Ni, Cu, and As.
Rigaku's advanced benchtop NEX CG combines indirect excitation, with secondary and polarization targets and a high-performance silicon drift detector (SDD), to yield the optimum performance for elemental analysis of ores. The method presented enables the reliable monitoring of elemental and oxide composition of the ore material throughout the entire processing cycle, including during smelting, as required for optimal process control and profitability.
The Rigaku NEX CG EDXRF spectrometer is shown to be an ideal tool for use throughout the quality control process. Furthermore, the NEX CG can be used to monitor air filters for air quality emission control while the patented Rigaku UltraCarry sample preparation technique is well-suited for monitoring process effluents to ppb range detection limits, making the NEX CG a versatile and valuable tool for several applications within ore mining and processing.
A copy of this report may be requested at:
http://www.rigakuedxrf.com/edxrf/app-notes.html?id=1103_AppNote
About Rigaku
Since its inception in Japan in 1951, Rigaku has been at the forefront of analytical and industrial instrumentation technology. Rigaku and its subsidiaries form a global group focused on life sciences and general purpose analytical instrumentation. With hundreds of major innovations to its credit, Rigaku and its subsidiary companies are world leaders in the fields of small molecule and protein crystallography, X-ray spectrometry and diffraction, X-ray optics, as well as semiconductor metrology. Rigaku employs over 1,100 people globally and its products are in use in more than 70 countries – supporting research, development, production control and quality assurance activities. Throughout the world, Rigaku continuously promotes partnerships, dialog, and innovation within the global scientific and industrial community.
For further information, contact:
Scott Fess
Product Manager
Applied Rigaku Technologies, Inc.
tel: +1. 512-225-1796
info(at)RigakuEDXRF(dot)com
###