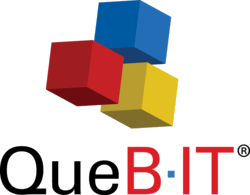 Paula's ability to quickly ascertain customer business problems and architect full solutions to enable customers to adopt smarter decision making will prove instrumental in enhancing our value proposition to customers", added Gary Corrigan, VP of Sales
Scarsdale, NY (PRWEB) February 14, 2012
QueBIT, a leader in Business Analytics Solutions throughout North America, today announced that Paula Burton has joined the company as Director of Business Development. Burton will report to CEO Gary Quirke and will lead QueBIT's Business Development efforts.
"Paula's presence at QueBIT will broaden our Business Analytics appeal, and educate the market that our focus extends beyond Financial Performance Management," said Gary Quirke, Principal & CEO of QueBIT. "Her expertise in Business Intelligence, coupled with a broad technical background in Data Warehousing and software development, will help expand the value that we deliver to our customers. We are excited to be adding someone of Paula's caliber to the QueBIT team."
Paula brings twenty years of information management and technology experience including: Project Management, Software Development, Database Administration, ERP implementation, Data Warehousing Design and Implementation, and Business Analytics Solutions Sales and Services. Paula was previously a key member of the national Cognos Sales and Pre-Sales teams that achieved a lot of success in selling the huge value proposition of Business Analytics to a wide variety of customers including AIG, Prudential, Metlife, Chubb, and Honeywell. Paula's relationships with the IBM Cognos sales teams and OEM partners will play a significant role in QueBIT's future growth plans.
"Paula's ability to quickly ascertain customer business problems and architect full solutions to enable customers to adopt smarter decision making will prove instrumental in enhancing our value proposition to customers," added Gary Corrigan, QueBIT Vice President of Sales.
"I am excited about joining the QueBIT team, with the main goal of expanding our Business Analytics business. I believe our exceptional depth and resources will enable us provide unique value to our customers. QueBIT's outstanding reputation was one of the key factors that attracted me to this opportunity, and I am looking forward to expanding our client relationships," added Burton.
ABOUT QUEBIT
Specializing in IBM Business Analytics Solutions throughout North America, QueBIT empowers companies to make intelligent decisions faster. To find out more information on how QueBIT can work with your organization to achieve results, please contact us at 1 800-QUEBIT1, email us at info(at)quebit(dot)com, or visit our website: http://www.quebit.com.
###