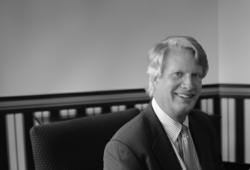 Towson, MD (PRWEB) February 14, 2012
Bowie & Jensen, a leading business law firm, is pleased to announce that Robert R. Bowie, Jr. will head the firm's business mediation practice.
"While continuing to provide high quality services in business litigation, I am also reaching out to law firms and businesses who can truly benefit from my experience as a business attorney," said Bowie.
"Mediation is a quicker, more effective way than trial to resolve many disputes," he added. "Mediation offers an alternative, and less expensive, way to achieve a resolution that's acceptable to all the parties involved."
Mr. Bowie has been litigating business disputes for over 35 years. During this time period, he has handled just about every type of business dispute.
The cases have ranged from patent and intellectual property cases in the Nutraceutical and HVAC industries to business disputes concerning a professional athlete's management company; to the construction and installation of the lights in Boston's Ted Williams tunnel in Boston to antitrust cases in the cell phone, presort mail and shopping mall industries; as well as, software programming disputes and copyright issues for a contracted computer code.
Mr. Bowie received the prestigious Leadership in Law Award from the Maryland Daily Record and has been listed as a Super Lawyer, a rating service of outstanding lawyers who have attained a high degree of peer recognition and professional achievement, multiple times.
The American Arbitration Association reports that over 85% of all mediations result in a settlement. This is true even where all prior attempts at settlement have failed, where the parties are pessimistic about the prospects of settlement, and where the parties have spent substantial amounts of time and money preparing for a trial.
"There are a number of reasons to use Bob as a mediator, said Matt Hjortsberg, Managing Member of Bowie & Jensen. "As someone who started a law firm that has grown to where it is today, and has represented hundreds of businesses along the way, he understands business owners and entrepreneurs."
"Anyone who knows Bob knows he has always had a creative side and this has helped fashion unique resolutions for clients that make "business sense." He can relate to clients and diffuse contentious situations," Mr. Hjortsberg added.
Mr. Bowie's rate for this work will be $400.00 per hour, and he can be reached at the firm at bowie(at)bowie-jensen(dot)com or 410-583-2400.
Bowie & Jensen is a Maryland-based law firm with attorneys representing clients around the world. Bowie & Jensen focuses on Business Litigation, Business Transactions, Construction Law, Entertainment Law, Employment Law, Estates & Trusts, Intellectual Property, Real Estate and Tax Law. For more information on Bowie & Jensen, please visit http://www.bowie-jensen.com.
###