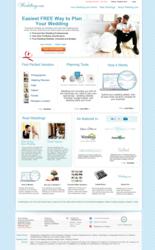 "There is a strong need in the wedding industry for a platform that allows Brides and
vendors to directly connect and collaborate"
Newport Beach, CA (PRWEB) February 14, 2012
Since its launch in early January Wedding.com has experienced rapid growth signing up over five thousand vendors, and thirty thousand brides have visited the site. CEO Brett Reynolds attributes the success to brides wanting to have a simplified way of planning their weddings.
"There is a strong need in the wedding industry for a platform that allows Brides and vendors to directly connect and collaborate" said Brett Reynolds, CEO of Wedding.com. "By using our website, we are seeing Brides save big on their special day by connecting with multiple wedding professionals."
In just a matter of a month Wedding.com has experienced dramatic growth due to the success of the application connecting vendors and brides and providing brides with an easy solution to plan their weddings. Wedding.com makes this process as trouble-free and enjoyable as possible. No more running around chasing wedding vendors. Wedding.com couples can sit back and relax while professionals connect with them.
"On average it takes a bride up to a year to plan her wedding, often due to the inconvenience of pursuing and selecting wedding professionals," says Reynolds. "Wedding.com dramatically decreases the amount of time spent planning by bringing couples a variety of vendors for them to choose the ones they like best."
Wedding.com is a revolutionary new website that connects Brides and grooms with local wedding vendors, while saving them time, money and hassles. They can compare reviews, portfolios and testimonials from Wedding.com users. Wedding.com also provides the Brides and grooms with other wedding planning tools such as a wedding checklist, wedding budget, wedding website and more.
The idea was originated in July 2010 by seasoned Internet veteran Brett Reynolds when faced with difficulties in planning his own wedding to his high school sweetheart of 15 years. Wedding.com combines this innovative technology with one of the best domain names on the Internet. The company is headquartered in Newport Beach, CA, and is expanding rapidly. For more information, visit our website at http://www.wedding.com.
For more information:
Brett Reynolds
Wedding.com
(949) 922-6585
breynolds(at)wedding(dot)com
###