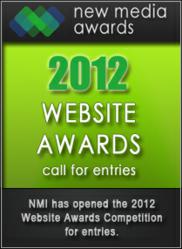 recognizing creative achievements – big and small – in new media communications
New York, NY (PRWEB) February 15, 2012
The New Media Institute (NMI), today opened its 2012 New Media Awards Competition. Website, Mobile Application and Video entries will be judged based on innovation, creativity, design, user-friendliness, and most importantly -- how well they serve their audience's needs.
"We're looking for entries that are far more than just pretty and informational. It's all about serving your audience's needs dynamically," explained Barbara Eber-Schmid, New Media Institute's Executive Vice President. "The 2012 New Media Awards Competition has become all inclusive, recognizing creative achievements – big and small – in new media communications."
Early registration (reduced entry fee) is now open. Full price fee begins March 31st. To enter your website, mobile application or video, go to http://www.newmediaawards.org
About New Media Institute (NMI)
The New Media Institute is a research and fact finding organization whose mission is to improve public understanding of issues surrounding the Internet and other forms new media communications, as well as promote best practices. In addition to its New Media Awards program, NMI covers new media news, publishes white papers, acts as a resource for facts/statistics related to new media and manages the New Media Professional Association.
###