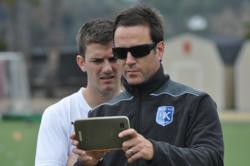 It was always my dream to be on the field for a Sunday game. Now that I am retired from professional football, I would like to help others reach the dream I lived. Michael Husted
San Diego, CA. (PRWEB) February 14, 2012
The National Camp Series (NCS) will feature former NFL kicker Michael Husted at its Super Camp VI in Orlando, Florida on February 18th and 19th, 2012.
Husted, who played for the Tampa Bay Bucs and the Oakland Raiders, says since retiring his goal has been to help young kicking specialists reach the dream he has lived.
"I've been very fortunate to have been able to play in the NFL for nine years," says Husted, who founded the National Camp Series (NCS). "It was always my dream to be on the field for a Sunday game. Now that I am retired from professional football, I would like to help others reach the dream I lived."
He says he can do that in part, through the National Camp Series and the NCS Super Camp.
"The NCS Super Camp is an annual event that brings the top football kicking specialists from around the country who learn from some of the best kicking coaches in the country," says Husted. "And it helps college coaches find high school kicking specialist talent.
Husted adds, "With football's National Signing Day behind, colleges and universities will now look to the NCS and its' KIX system to help fill their rosters with kickers, punters and long snappers."
According to Husted, the National Camp Series Network provides over 100 years of NFL/College experience and knowledge.
"The quality of instructors for our Super Camp is outstanding and continues to grow every year," says Husted. "This year's expert coaches feature former NFL Kickers and Punters. NFL punters Louie Aguiar, Craig Hentrich and NFL Kickers Michael Husted, Mike Hollis, will headline a coaching staff that is unparalleled."
According to Husted, kickers who attend the camp will:
*Receive Small Group Instruction from NFL Players
*Have Rankings Posted on the Kicking Index (KIX)
*Get Unparalleled College Exposure
*Learn Pressure Situation Techniques
"The annual Super Camp finishes with a head to head tournament for all kickers and punters to display their ability to perform under pressure," says Husted. "It is an equal opportunity for all kickers and punters to prove they are among the top by taking home The Champion's Trophy."
Husted said this year the NCS introduced its All Region Team Tournament, "Student-athletes were selected to the All Region team based on their performances at NCS Regional Camps this past year."
During Super Camp VI, athletes will compete with their respective team. Similar to the Olympics, while competing individually, they will receive points that will be totaled with the rest of their teammates. At the end of the Super Camp, the All Region Team Champion will be announced.
"We are excited for the All Region Tournament at Super Camp VI," said Husted. "Besides recognition for their performances at our NCS camps, being on a team will allow them to have a great experience to cap off their previous NCS camp event."
For more information about Super Camp VI go to National Camp Series / Super Camp.
For more information about Michael Husted go to http://michaelhustednflkicker.com.
###