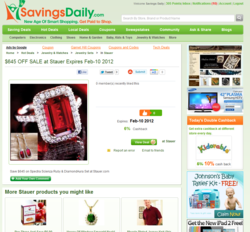 At SavingsDaily.com there are vast collections of jewelry and watches, health and beauty products, and fashion items.
(PRWEB) February 14, 2012
This year's V-Day motto: "Deal Hunters Save Big With SavingsDaily.com When Shopping For Valentine's Day Gifts." Some might think that is hardly a romantic way to look at the event but in this case, the ends truly justify the means. The look on a loved one's face when they open a gift they actually want is probably one of the most amazing feelings in the world. After all, the romance lies not in the act of shopping but in the act of giving itself. Everyone wants to buy their "one and only" a gift that they will truly appreciate. There is no need to stoop to purchasing that generic box of chocolates - the kind where the eater needs to pick out the only three sweets that taste ok and sneakily feed the rest to the dog. SavingsDaily.com offers a welcome alternative to this low Valentine's Day cheat.
SavingsDaily.com is the number one online source for coupons, discounts, online deals and promotions. This is the one website where shoppers will find all of their favorite brands (and a few undiscovered ones) at reduced prices. It quite literally does not get any better than that. Buying one's partner their favorite brand of watch or jewelry is sure to put a smile on pretty much everyone's face – and that is really what the whole Valentine's Day celebration is about. This is the one day in the year where people have the opportunity to show their love and appreciation for that someone special. Of course, there is no need to stop there. With the amazing savings on the SavingsDaily site people should be more than ready to send some love to their mothers, fathers, sisters, brothers, grandparents and friends. With the help of the bargain hunters at SavingsDaily one does not need to be rolling in bags of cash in order to make a great purchase.
At SavingsDaily.com there are vast collections of jewelry and watches, health and beauty products, and fashion items. There is absolutely no shortage of gift options so everyone is guaranteed to find that perfect something for their special someone. Of course there is also the added bonus of knowing that the products purchases are of decent quality because all of the brand products available on the site are the ones that people know and trust. Customer reviews make the shopping process even easier as shoppers are able to see which products are popular and rated at the top of their class.
SavingsDaily.com is a social shopping site that offers online deals, coupons, promotions and product reviews to its members and visitors. SavingsDaily.com is a fast growing shopping community where members help each other finding best deals and coupons from hundreds stores and brands in one place. For details, please visit SavingsDaily.com, become fan on Facebook at http://www.facebook.com/SavingsDaily and follow on Twitter at http://twitter.com/sddly
###