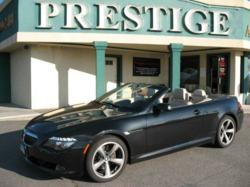 Lots of people are driving vehicles that are no longer safe or that need to be replaced. Our $99-down, guaranteed financing makes car ownership possible.
Portsmouth, VA (PRWEB) February 14, 2012
The economy may not be rebounding quite as fast as Americans would like, but that's not stopping one local used car dealership in Portsmouth, VA. Prestige Auto Brokers pledges to do what it can to help local consumers.
Prestige Auto Brokers, Inc. of Portsmouth is celebrating its 25th year in business this year, and the company has announced that it will slash down payments on every car on its lot to just $99 to help area consumers get back on the road.
"This economy has been tough on honest Americans. Many people have been hit hard, and lots of people are driving vehicles that are no longer safe or that need to be replaced. We also are seeing an influx of returning servicemen and women, and we're pleased to be offering them any vehicle on our lot for just $99 down," says Ben Mahgerefteh, owner of Prestige Auto Brokers.
Since 1987 Prestige Auto Brokers has specialized in offering high quality used cars for sale to Virginia Beach, Norfolk, Chesapeake, Virginia Beach and other residents of the Hampton Roads and surrounding areas. Mahgerefteh says his inventory includes the most popular imports and domestic models.
"We want to celebrate our family's success by helping our community. Today, that means making it easier to purchase a clean, well-maintained automobile that fits with their lifestyle. We take great pride in finding the best pre-owned cars and offering them to our customers at fair prices," he said.
Prestige Auto Brokers is a family business, something that is becoming less and less common in the highly competitive car business. Mahgerefteh says pre-owned cars have become more popular in recent years as gas prices and insurance costs have risen, making automobile ownership more expensive for everyone.
"We're excited to offer this $99 down deal to our community" Mahgerefteh says.
The complete inventory of available cars, trucks, vans and SUVs is available online at http://www.prestigeva.com/index.php. For more information, stop by the dealership at 4125 Portsmouth Blvd., Portsmouth, VA or call Ben at 757 399 2414.
###