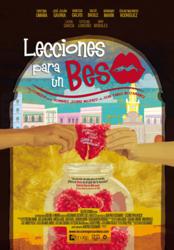 A romantic comedy ready to hit your laptop in time for Valentine's Day."
Examiner.com
Los Angeles, CA (PRWEB) February 14, 2012
Striving to become pioneers in the online movie rental via Facebook, the Latin American independent studio Talleres Uchawi, partnered up with Facebook to distribute "Lecciones Para Un Beso" (Lessons For A Kiss) to audiences worldwide. This new model of distribution sets new standards for independent filmmakers. To watch the movie, fans will be able to pay with a credit card or through "Facebook credits."
The cost to "rent" the movie through the social network will be one dollar and can be accessed by its Fan Page followers, currently totaling over 183,000 users. Already the fans are beginning to participate in contests and promotions as the online premiere draws closer https://www.facebook.com/LPUBeso.
The film "Lecciones para un beso" from the young Colombian director Juan Pablo Bustamante is a romantic comedy that premiered in movie theaters in his native country and broke box office records. The film tells the story of Alejandro's life, a teenager in Bogota who is forced to move to Cartagena where his mother decides to open a restaurant. There, he falls in love with María, a stunning young girl, and intends to try everything possible in order to give her a kiss. Inexperienced in love, Alejandro asks three clients in his mother's restaurant for help — a romantic, a liar and a materialist — to teach him how to win María over. The men accept not only to help the boy, but they also make a bet among themselves to see whose advice ends in the kiss.
"Lecciones Para Un Beso" is a romantic comedy that the guys might enjoy. Bustamante, explains, 'It is the perfect Valentine's movie, especially for the guys. This is a story, a romantic comedy for men with more emphasis on the guy side of the story. It is more about how the guys think to court girls.' This unique perspective is what drew Bustamante to the film, 'I like romantic comedies, but they are usually made with this one point of view. Maybe we need to show a good male way of falling in love.'
Talleres Uchawi produces Colombian independent films dedicated to the creation of audiovisual works that combine artistic and commercial elements with quality universal stories. One of the documentaries shot by this production house, Cartagena de Indias: Una historia de cinco elementos, won first prize at the Third Exhibition of New Artists at the 43rd Edition of the Cartagena Film Festival and has sold over twenty-five thousand copies.
The Cast:
Cristina Umaña | José Julián Gaviria | Vanessa Galvis | Salvo Basile | Bárbaro Marín | Óscar Mauricio Rodríguez | Laura García | Catalina Londoño | Mimi Morales | Luis Tamayo | Luis Fernando Bohórquez | Florina Lemaitre.
For more information on the film, visit:
http://www.leccionesparaunbeso.com
https://www.facebook.com/LPUBeso
###